Blog:
VT
April 26, 2016
Every spring when the season is over, I head to the cabin to turn off the heat, stack the wood for next winter and get the trails in shape for summer. I'm productive enough, but really it's just another reason to return to my favorite place in the world.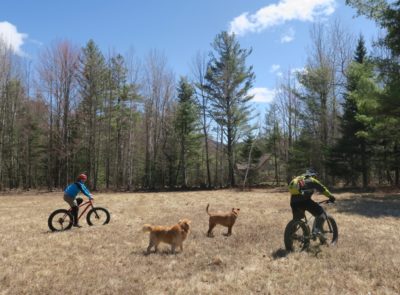 Traditionally the spring work weekend was in early May, before the black flies had their game on. But over the last ten years the bugs are emerging earlier and we've moved spring weekend into April. Even this year it hardly feels like the ski season is over.
I arrived Friday afternoon and took a quick walk of the yellow trail. It was dry and I was surprised to find little deadfall; small consolation for the thinnest winter in memory.
April 12, 2016
When I got the email Friday night that Saturday's little league games were cancelled due to weather, I knew what to do. I loaded up the truck and headed to Vermont for one more last day of skiing.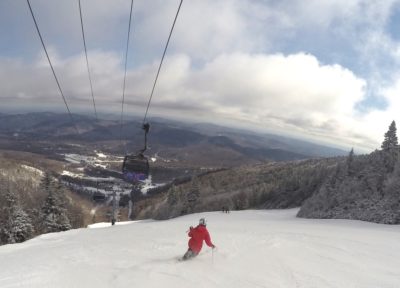 Barring another schedule clearing miracle this was likely the end of my ski season. So at 9:30 on Friday night I set out for The Beast of the East.
Saturday was also the day of the Bear Mountain Mogul Challenge. It says something about the year we're having that the event wasn't held on Outer Limits, for possibly the first time in history. Bear Mountain is closed for the season and the event was being held at Killington Base Lodge.
May 5, 2015
I hear a lot of complaining about the cold temperatures in winter, but then find slopes nearly deserted when spring arrives. That wasn't the case at Sugarbush on Saturday, lots were full and not a complaint in sight. Assuming you like moguls, then there was something for everyone.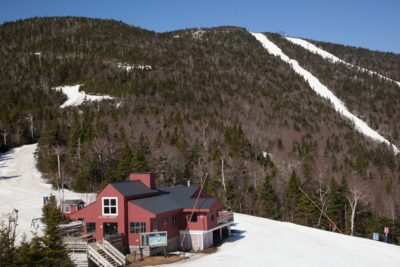 Like any good closing weekend, moguls seemed to take center stage, And they're usually not just any old moguls. When the mercury rises to 70 degrees and t-shirts start coming off, you're talking about the kind of moguls that explode on impact. The kind that make a skier want younger knees, or maybe an old pair of straight skis to really throw down a 80s-style Glen Plake zipper line.
The trails were actually fairly flat in the morning, and I shuffled down Downspout for pole position on Ripcord, Organgrinder, and Jester. All three trails have quite a bit of character, but Jester was my favorite. Winding lazily through the spring air from the summit of Lincoln Peak seemed to be the best way to celebrate spring.