Blog:
VT
June 5, 2017
The Mile High Club still eludes me, and I'll never hit 500 home runs, not with all the steroids in the world.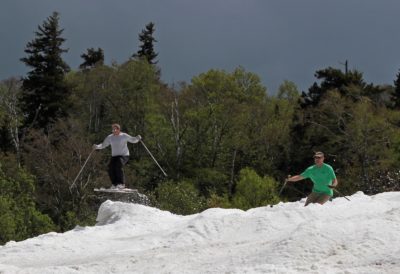 But last Thursday, I joined the ranks of another exclusive set–this one of die-hard east coast skiers, and perhaps even more prestigious.
For the record I did it with Naked Viking Man, Girl in Bikini, and an army of green t-shirts that read "I like big bumps and I cannot lie."
April 11, 2017
Smugglers Notch has been on my radar for more than five years. Without ever setting foot on the hill, I knew that Smuggs had it all: snow, terrain and old school vibe.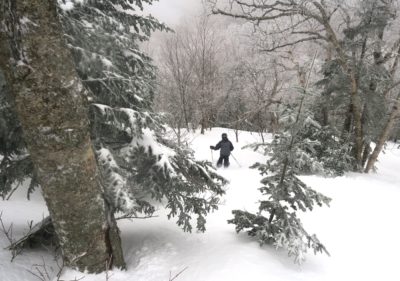 My experience in Northern Vermont is limited. I skied Stowe many years ago, as an intermediate. We had friends in the area and we would ski for a few days around Christmas. In those days I wasn't a tree skier and I don't remember us getting any new snow.
Then, about five years ago a bunch of us skied together for three days at Jay. The first morning the Jay Cloud went off at opening and delivered 5-8″ before lunch. My first experience with nice powder skiing in really widely spaced trees.
October 18, 2016
As days get shorter, hours become precious and I was determined not to waste my final summer trip to Vermont by recovering from a late night wedding party. After a slow start, I headed to an area near Route 2 and the Long Trail that has long held my interest.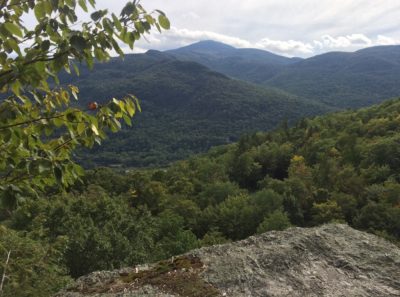 There is something remarkable about this spot. The lowest point in the state is nestled directly below Camel's Hump, the tallest undeveloped peak. The long vertical and steep terrain always holds surprises, and going up Bone Mountain is a great way to check out the views.
The parking lot at the end of Green Mountain Road was deserted but even alone, I decided to bring my climbing gear in case I ran into a friendly climbers. On that list was Travis Peckham's Tough Schist. It's one of my favorite guidebooks and I thumbed its well used pages to get a closer look at the topos to find Cat Crack and The Dwarf Wall before I left.