Blog:
Uncategorized
June 27, 2017
Dear Governor Cuomo,
It's been hard to miss the ongoing "Start-up NY" TV advertising campaign that promotes the benefits of new regulation and tax policies designed to encourage businesses to relocate to upstate NY. We support this message and these efforts.
As you know, New York has more ski areas than any other state in the country, and the economic impact of this sector is significant.
Your own office estimates the impact of Gore and Whiteface at $100 million per year. A 2015 study conducted by RRC Associates of Boulder Colorado concluded that NY ski areas added over $900 million to the state's economy each year through both direct and indirect spending.
April 4, 2017
When schedule changes opened up my kids' availability, I ditched my plan to drive Whiteface Saturday and sleep in the River Lot. I started thinking about Gore or Magic, both a bit over three hours drive from our home.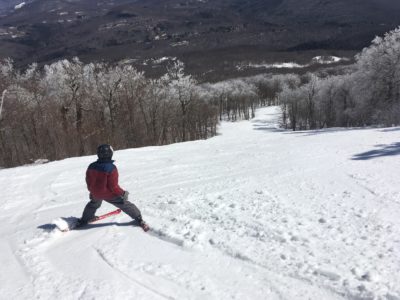 My sons resisted the required pre-dawn departure, so we headed to the Catskills. We left the house around 7am eager for some spring skiing. We were well on the way north before we narrowed our choice further. Being the awesome dad that I am, I decided to let the kids make the call.
They narrowed it down to Plattekill and Belleayre. Ultimately they opted for Belle, when I told them about the scheduled pond skim event. They had seen this kind of craziness for the first time last year at Mount Peter's Springfest and got a big kick out of it.
November 6, 2012
Over the past week, many skiers were excited to see video, images, and trip reports of skin tracks and powder from the forests of West Virginia. I saw them, and they were awesome for any time of year, let alone late October.
That joy we enjoyed on the backside stood in sharp contrast to the awful side of the storm that our neighbors faced at the front.
And now, the news cycle is turning the page to other stories about blue and red states. As the mainstream media and public suffer from disaster fatigue, the story of Sandy will inevitably be swept aside. In the process there are devastated communities that will also be brushed from our consciousness.