Blog:
Uncategorized
November 6, 2012
Over the past week, many skiers were excited to see video, images, and trip reports of skin tracks and powder from the forests of West Virginia. I saw them, and they were awesome for any time of year, let alone late October.
That joy we enjoyed on the backside stood in sharp contrast to the awful side of the storm that our neighbors faced at the front.
And now, the news cycle is turning the page to other stories about blue and red states. As the mainstream media and public suffer from disaster fatigue, the story of Sandy will inevitably be swept aside. In the process there are devastated communities that will also be brushed from our consciousness.
December 9, 2011
Advertisers spend a lot of time trying to fuse the words "effortless" and "skiing." Flip to an ad for Beaver Creek in Ski Magazine and you'll probably find a pampered skier making silky turns across a canvas of untracked corduroy. Just like a professional dancer, he or she has probably trained for years to produce a smooth performance.
Enter Bode Miller. He may be popular with the ladies, but his skiing is anything but smooth. Just listen to the yelling in the start house as Miller prepares to throw his body through every turn in the course ahead. The finesse is there, but he's not afraid to look like he's trying.
Miller's win in the World Cup downhill shouldn't be a surprise. He put together an exceptionally smooth run, betraying his fight against physics only a couple of times. The guy knows what he's doing and last week at Beaver Creek, he served up a reminder to fans and competitors alike that he's still got it.
July 28, 2010
For the last couple of years, we've wanted to take the kids to Europe. The stars and our schedules finally aligned this summer.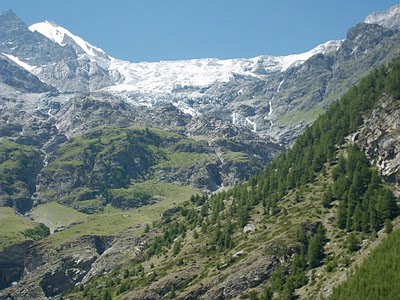 After a week in Paris and a visit to the Normandy beaches, we headed to Zermatt, home of the Matterhorn and the largest summer ski area in the Alps.