Blog:
Rafting
July 20, 2011
The Lake Abanakee Dam in Hamilton County, New York was constructed in the 1950s. Since 1997, regularly scheduled dam releases have made whitewater rafting on the Indian River possible — now rafts and kayaks can reach the Hudson River Gorge throughout the summer.
The structure is a gravity dam of earthen construction — it's 15 feet high and 240 feet long. Maximum discharge is 6,870 cubic feet per second. Normal storage is 3,660 acre feet and capacity is 6,110 acre feet.
The dam brought jobs to the central Adirondacks from the very beginning. Hamilton County raised $60,000 in the summer of 1950 for land acquisition, clearing of the area, and the construction of the dam itself. Forty men were employed by the project.
August 30, 2010
Governor Paterson recently took a 2-day rafting trip through the Hudson Gorge with Beaver Brook Outfitters.
Politics aside, it's a good thing whenever a governor experiences first-hand the outdoor recreation opportunities that we have in the mountains of New York.
Congratulations to Pete Burns and Beaver Brook Outfitters for being selected for the honor of guiding the Governor on the river.
Full story in the Adirondack Daily Enterprise.
July 11, 2010
After my zip line experience this summer, I can cross another bullet off my outdoor sports to-do list: whitewater rafting.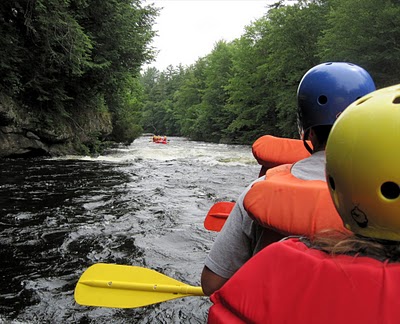 Mid-Morning on Indian River
In the Central Adirondacks, there are several rafting outfitters that take advantage of scheduled dam releases from Indian Lake to run river trips from April to October: a six-month season. North Creek Rafting Company (NCRC), a very short walk from Main Street, outfitted us with equipment, gave our group a quick orientation, drove us to the put-in site, and within a minute or two, we were careening through our first series of Class 3 rapids.