Blog:
Rafting
August 30, 2010
Governor Paterson recently took a 2-day rafting trip through the Hudson Gorge with Beaver Brook Outfitters.
Politics aside, it's a good thing whenever a governor experiences first-hand the outdoor recreation opportunities that we have in the mountains of New York.
Congratulations to Pete Burns and Beaver Brook Outfitters for being selected for the honor of guiding the Governor on the river.
Full story in the Adirondack Daily Enterprise.
July 11, 2010
After my zip line experience this summer, I can cross another bullet off my outdoor sports to-do list: whitewater rafting.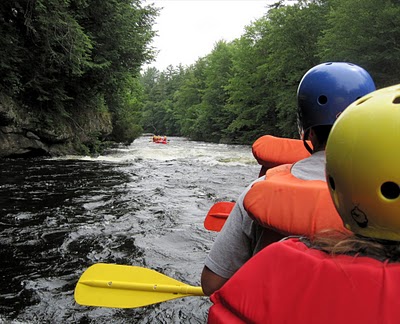 Mid-Morning on Indian River
In the Central Adirondacks, there are several rafting outfitters that take advantage of scheduled dam releases from Indian Lake to run river trips from April to October: a six-month season. North Creek Rafting Company (NCRC), a very short walk from Main Street, outfitted us with equipment, gave our group a quick orientation, drove us to the put-in site, and within a minute or two, we were careening through our first series of Class 3 rapids.