Blog:
Rafting
September 6, 2016
There has been a long standing "thing" with me and whitewater rafting. I've been avoiding the Hudson River Gorge for nearly two decades with a variety of different excuses.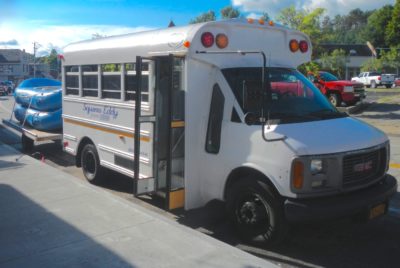 But over the last four years, as my involvement with SquareEddy has grown, my river avoidance was starting to stick out in a very obvious way.
Lori Phoebe and Linc, friends, rafting company owners and guides, have pushed me to take a river trip, but it took insistence from my daughter Neve to make it happen.
June 25, 2014
I recently moved to Brooklyn from Connecticut. It was a big life change and in the process, I missed the chance to do something special with my mom on Mothers Day. This past weekend, I rectified that, telling her we were going to see a secret wonder upstate.
We headed up together on Saturday to the central Adirondacks. After a beautiful drive up the Taconic Parkway we made our way to North Creek, NY. We pulled in to the center of town at around 6pm and headed down past the oversized blue Adirondack chair to check in with our rafting company.
We found people bringing out food, a band setting up on a stage, children playing, and smiling people all around. All were getting ready for the second annual Summer Solstice party hosted by Square Eddy Expeditions owners/guides Linc Marsac and Lori P Benton.
July 20, 2011
The Lake Abanakee Dam in Hamilton County, New York was constructed in the 1950s. Since 1997, regularly scheduled dam releases have made whitewater rafting on the Indian River possible — now rafts and kayaks can reach the Hudson River Gorge throughout the summer.
The structure is a gravity dam of earthen construction — it's 15 feet high and 240 feet long. Maximum discharge is 6,870 cubic feet per second. Normal storage is 3,660 acre feet and capacity is 6,110 acre feet.
The dam brought jobs to the central Adirondacks from the very beginning. Hamilton County raised $60,000 in the summer of 1950 for land acquisition, clearing of the area, and the construction of the dam itself. Forty men were employed by the project.