Blog:
Plattekill
December 19, 2016
For the second time in nearly 25 years, Plattekill opened the season with 100% terrain and all natural snow. If you were there, it sure felt like an historic occasion.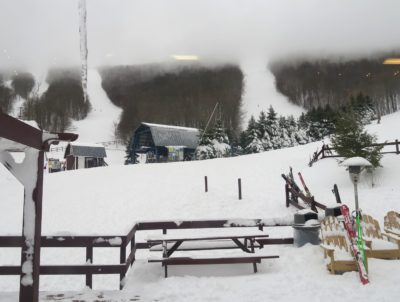 I set my alarm for 4am, Catskill Standard Time.  As soon as I looked out the window, I knew I was on the wrong side of the clock. There was an inch on my car and it was snowing hard at 20 degrees.
When traveling to Plattekill, my goal is to arrive by 8:10.  This gives me a chance to say hello, and still make first chair. Realizing that snow in the flatlands would add time to the drive, I left at 4:30 am, even earlier than planned, to try to make up some time.
November 2, 2016
I was excited to head up to Plattekill for the annual glade clearing workday. In past years our fall soccer schedule didn't allow me to get away.  Last Saturday I took my 14 year-old to scope some lines and give a little back to a cool ski community in the Catskills.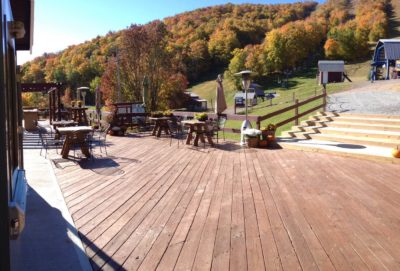 Plattekill has been busy this summer. In addition to hosting mountain bike races, live concerts and Plattepalooza, they've rebuilt and expanded their outside deck, expanded the seating area in the base lodge and added snowmaking to Buckle Up at the top of the mountain.
The last project is exciting. Buckle Up is a low angle trail that's a vital connection from the top of the triple to Plattekill's signature steep Blockbuster. The Block is one thousand feet of steep, sustained vert that is one of my favorite ski trails in the Catskills.
September 20, 2016
Plattekill Mountain and NYSkiBlog are super stoked to announce the sixth annual Tree Skiing Work Day at Plattekill in Roxbury NY has been moved to Saturday October 29, 2016.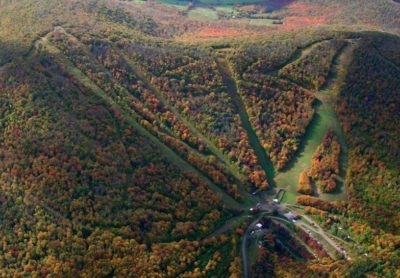 We're recruiting a motivated, smiling crew of lopper wielding powder fiends to help develop some of the Catskills best tree skiing. Our longterm goal remains true boundary-to-boundary skiing at a ski area that wants you to pursue your passion all over the mountain.
Plattekill regulars know the mountain has it all: steep terrain, good snowfall and a great vibe. You can access it all without liftlines.