Blog:
Nordic Skiing
March 31, 2015
Taking a whole weekend off to ski this year was a rarity. I have a job that requires working on Saturdays, and you gotta take care of business. So when the opportunity came at mid-winter break, my family repaired to Lake Placid to ski Mount van Hoevenberg.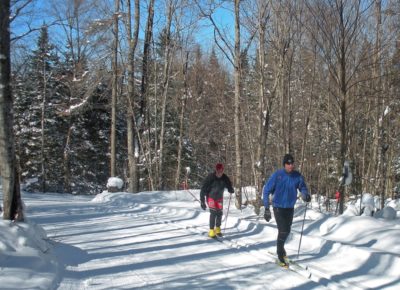 In 1982, I skied Mount van Hoevenberg for the first time. Still a novice, my friends were extolling the virtues of this place and we came up on a chilly January weekend.
The first trail we skied then was the Ladies 5k, so named because it was the route for the women's 5 km relay event in the 1980 Olympics. Only one of the most difficult trails in the place. The lower part of the loop I managed without incident. But from the height of land, I basically fell all the way back down to the stadium. I was still figuring out how to turn going downhill.
February 17, 2015
My first time skiing was at Garnet Hill Lodge in 1989. I had a friend with a ski shop who convinced me to give nordic skiing a try. We bought NNN skis, a complete set up, boots, poles and skis for $125.
The first morning of our stay we skied from the lodge down to the ski shop via the Cut Off Trail. It's pretty steep for a nordic trail with a 90-degree turn at the bottom of the steepest section. It was right after a rain/freeze and we were out before the groomer.
When I got to the corner, it wasn't pretty. I spent a minute on the ground wondering what the hell I was doing.
December 1, 2014
Ski Day 5: Garnet Hill Lodge had a Ski Shop Open House all weekend, with music and free skiing. On Friday after our drive to the mountains, we made some late day nordic turns on Upper Tailings, Old Faithful and Lift Line.
Saturday Neve got her new gear through the annual GHL kids nordic gear exchange ($20/year) and we picked up our seasons passes. The girls headed back to the cabin to do some sledding. I was surprised they didn't want to ski but I soldiered on, heading out solo towards the intersection of Trapper and 4H.
Like the day before, my intention was to check out the view from the Upper Tailings then head down 4H to Old Faithful. But also like the day before, after I enjoyed the view, as I skied past Lift Line… it sucked me in.