Blog:
Nordic Skiing
August 19, 2014
As we glided out of the woods, our daughter Laurel shouted, "This… is AWESOME!" We'd gotten to one of those classic Vermont xc ski vistas: a huge view across miles of rolling hills with woods and open fields, dotted with houses and barns. Then she double poled into a plunging, curvy downhill on to Viking Nordic's Loki's Run trail.
Last February, we drove to Landgrove, Vermont for Presidents' Day weekend. Seeking respite from too much snow in New Jersey, so we drove north to …more snow. Just 40 miles north of Prospect Mountain, one of our regular haunts, I'd never been to this part of Vermont.
While there are plenty of unexplored touring centers on my bucket list, the plan was to stick close to our hotel and ski at Viking and at Wild Wings Ski Touring Center down the road.
October 31, 2013
The fourth annual cross-country ski swap to benefit Fahnestock Winter Park will take place from 9AM to 1PM this Saturday, November 2, at the Taconic Outdoor Education Center located at 75 Mountain Laurel Lane, Cold Spring NY.
With 15 km of groomed trails near Cold Spring NY, Fahnestock is a great cross-country resource for skiers in the New York metropolitan area.
"We look at it as a service to our community," said Paul Kuznia. A dedicated skier, Kuznia is director of both Fahnestock and Taconic Outdoor Center. "A lot of our customers aren't experienced skiers. They come to the sport later in life, and they learn to enjoy the winter."
September 9, 2013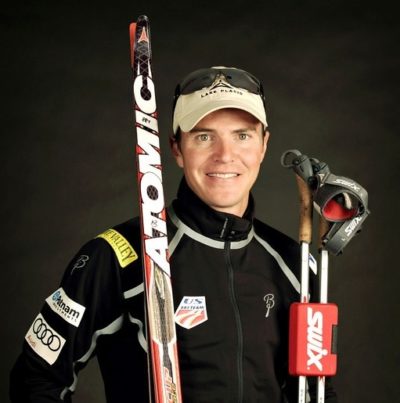 Let's face it: at best, nordic combined — where athletes race cross-country after jumping — is not on most Americans' radar.  When Johnny Spillane won the U.S.'s first World Championship gold in 2003, it didn't elicit a yawn outside the nordic ski community.  But when the U.S. broke through for four nordic combined medals in the 2010 Winter Olympics, it got people's attention.
In Vancouver, Vermontville NY native Bill Demong skied to gold in the large hill/10 km event and anchored the U.S. to silver in the team event.  Johnny Spillane, now retired, had two individual silver medals in that Olympics and shared team event silver.
Demong is no overnight sensation.  Vancouver was his fourth Olympics, and he follows the footsteps of a program that has yielded several World Championship medals and fielded strong skiers for over 30 years.
At the USANA Health Sciences convention in August, Demong took time to speak with NYSkiBlog.  USANA Health Sciences, one of Demong's sponsors, is a direct selling company that develops and sells nutritional and personal-care products.  We thank them for making Demong available.