Blog:
Hiking
October 18, 2016
As days get shorter, hours become precious and I was determined not to waste my final summer trip to Vermont by recovering from a late night wedding party. After a slow start, I headed to an area near Route 2 and the Long Trail that has long held my interest.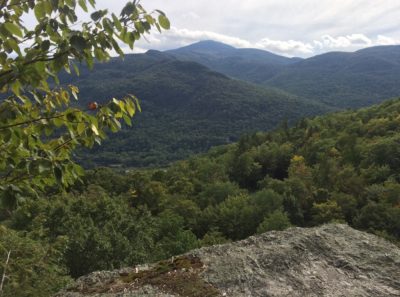 There is something remarkable about this spot. The lowest point in the state is nestled directly below Camel's Hump, the tallest undeveloped peak. The long vertical and steep terrain always holds surprises, and going up Bone Mountain is a great way to check out the views.
The parking lot at the end of Green Mountain Road was deserted but even alone, I decided to bring my climbing gear in case I ran into a friendly climbers. On that list was Travis Peckham's Tough Schist. It's one of my favorite guidebooks and I thumbed its well used pages to get a closer look at the topos to find Cat Crack and The Dwarf Wall before I left.
August 1, 2016
I first heard Peekamoose Blue Hole was in trouble last year.  I'd recommended the spot to a buddy of mine, and upon his return he called me with a tragic tale.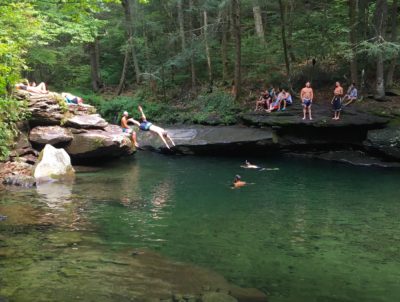 Things were grim: hundreds of people with grills playing loud music surrounded by broken glass and garbage. He told me there were so many cars parked along the road that it was difficult to drive past it.
Peekamoose Blue Hole, as I knew it, was not supposed to be that way. While it hasn't exactly been a secret since the dawn of the internet age, it's location, lack of services, and deep, ice cold water had always limited crowds.
July 19, 2016
My wife, our pooch Crosby and I were in the great Adirondack North Country for a weekend. With lakes surrounded by mountains practically wherever you look, it was the perfect venue for a nice, relaxing weekend filled with some great hiking.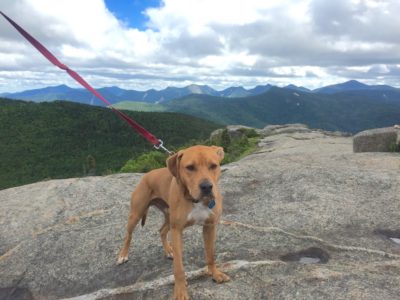 We bagged Cascade and Porter on Saturday afternoon once the light mist subsided. The day turned out quite nice. The weather improved dramatically from the morning and while it stayed cool, the clouds broke and the views from the top were outstanding.
They say Cascade is the easiest of the 46ers. But it's not an easy hike compared to most mountains I have hiked in the Catskills or the Greens. The terrain is more rugged, and at times, the trail is little more than a path of boulders through the forest.