Blog:
Downstate NY
January 20, 2015
On Monday I ventured 45 minutes to Mt Peter in Warwick, NY, with my 3rd grader. After Sunday's ice storm turned into a gully washer, I was a little unsure of what the trails would look like when we got to the mountain.
We were pleasantly surprised to see that pretty much the entire mountain was open on deep manmade snow. We booted up in the beautiful Sunrise Lodge. It is a fully windowed post and beam building that sits almost on the trails. A great spot for familiies, it is heated and has AC for summer events.
About 20 feet away is a snack bar offering a nice variety of food and drinks including hamburgers and hot dogs. There is also a full service cafeteria, a bar and a creperie.
June 30, 2014
For the past few years, I haven't considered it truly summer until I hike Breakneck Ridge. Rated the Best Day Hike in America by Trails.com, it's a stunning scramble above the Hudson with views that improve as you climb each impossible notch.
Then the trail ambles back through glorious meadows and the day concludes with a burger and fireworks at the All-American town of Beacon, NY.
But Breakneck Ridge is to some degree a victim of its own popularity, and on a spectacular Saturday with a late start, I wasn't looking forward to being the 1000th car parked down the road from the trailhead.
June 9, 2014
The song's chorus echoes "Aint No Cure for the Summertime Blues." Fewer people remember the oldies classic every year but the words still ring true for skiers.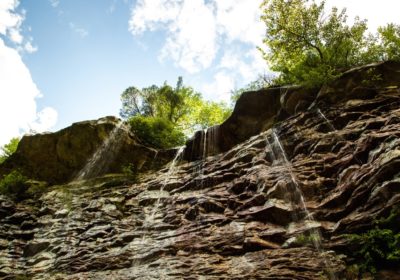 My favorite cure to escape the heat of the city has been the collection of parks that make up what is known as "The Gunks."
It seems there is always something else to see there. The cliff flanked ridge allows unparalleled views of the Catskills to the north as well as the Hudson Highlands to the south.