Category:
Catskills
December 10, 2013
Saturday afternoon I received a text from Harvey asking if I could to join him at Belleayre on Sunday. This season's early cold has allowed aggressive snowmaking and the mountain has made good progress opening terrain, so I jumped on it.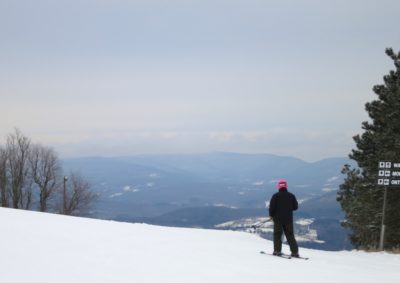 Belleayre's trail report had two lifts and 11 trails open, including a mix of green, blue and black terrain. Conditions were reported as machine groomed loose granular, loose granular with moguls, hard pack and thin cover. Both the Discovery Lodge and the mid-mountain Overlook Lodge were open.
We could see a snowmaking cloud on the hill as we approached from Route 28. We parked at the Overlook Lodge and were on the Super Chief Quad in just a few minutes.
November 30, 2013
There was a lot of talk about Black Friday this year, and the morning was exceptionally dark when I left the house at 6 to beat the crowds at Hunter's opening day. But driving through Tannersville early was more reminiscent of a Christmas snow-globe scene then madness that shoppers dealt with in the local malls.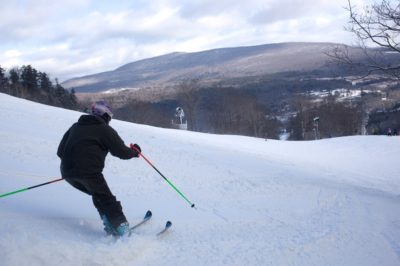 In another contrast, there were no mixed reactions to opening day for skiing, either. The crowds that I had worried about seemed more likely to enjoy the day like a college reunion then fight for a pole position on I87 or down the aisles at the big box.
The camaraderie was palpable as the cheers went up for the first chair. My first opening day at Hunter was everything I could have hoped it would be. I passed my iPhone around at Thanksgiving, showing webcam proof that the skiing was going to be good. To some extent I was trying to convince myself to shake off the massive feast and go skiing.
October 21, 2013
The nights have finally turned cooler, and it's been hard not to notice leaves piling up by my door each morning. Halloween candy has been on sale at the drug store for weeks, and the farmers market is turning out more apples than there are tourists in NYC.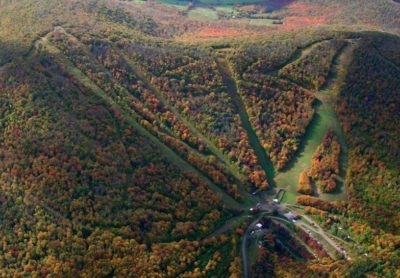 There is no fall tradition that brings me more excitement than heading up to Plattekill to manicure the woods in preparation for the upcoming season. Working on a glade is the best way to own your local ski hill if you can't afford to buy it.
Making the pilgrimage to Plattekill before the snow falls gives you some real skin in the game. It ensures that you'll deserve a copious overnight snowfall before your day off.