Category:
Backcountry
October 8, 2013
OK Slip Falls is among the highest waterfalls in New York State. Located in the Adirondacks north of Route 28, halfway between North River and Indian Lake, the falls cascade nearly 250 feet in one spot on its path from OK Slip Pond to the Hudson River.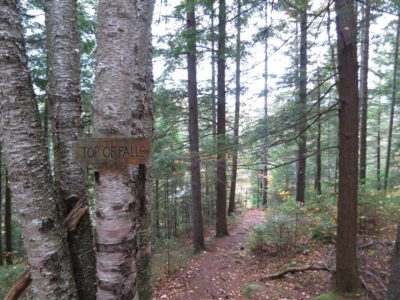 I've imagined OK Slip Falls ever since the late 70s when I first read about the remote and inaccessible wonder. For as long as I can remember, OK Slip Brook has been on land owned by the Finch Pryn paper company.
But in 2009, the OK Slip Tract was acquired by Nature Conservancy and in the past year the lands were sold to the state in a blockbuster land deal that included diverse parcels throughout the central and southwestern Adirondacks.
September 17, 2013
Hour Pond is a southern Adirondack destination with majestic views of Bullhead and Hour Pond Mountain. But what draws me to Hour Pond most is the new Hour Pond Trail from Thirteenth Lake.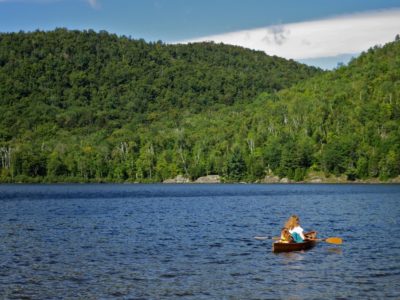 Like many others, this adventure started on Thirteenth Lake. Along the northwestern shore, we paddled beyond Peaked Mountain Brook to the next inlet stream coming off Hour Pond Mountain. We beached our boat, found the red trail and started climbing.
This route is old and must have been a trail back in the day. It passes through a narrow slot on the height-of-land between the Thirteenth and Hour Pond drainages.  It was a largely unmarked hunter's path / backcountry bushwhack when I first skied it.
September 5, 2013
Rock Pond NY is one of the easiest and most satisfying places to go, or take a family. It's right there at the end of a long drive, just a paddle and a portage to a heavenly spot.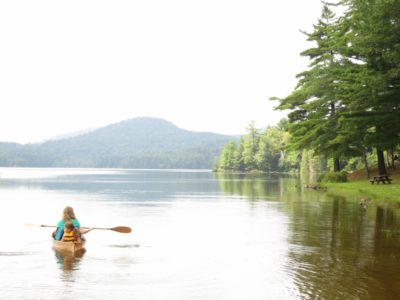 For us it started at Putnam Pond, 40 miles from our camp in North River. Through Olmsteadville and Pottersville, out Route 74 towards Ticonderoga, down the Chilson Road to the DEC campground.
We set out on Putts Pond, headed to North Pond and points beyond. Invariably someone, usually me, is hiking around via the trail. Transporting boats over rocky hills is a special skill, and for your sake, I hope you never perfect it.