Blog:
Backcountry
January 2, 2017
I always look forward to the moment when I first step into the snow. It gives me a line on what to expect from the ski days ahead.
On Tuesday, I was surprised by what I found. That first step into the snow step was soft-ish, with just a hint of crunch. Ten inches of compressed snow remained from the last liquid event and it didn't feel super saturated. Of course it was just above freezing.
Now, I know the Almaguin Highlands guys don't ski the pipeline before it sets, but that's not how we roll down here on Christian Hill. If it's skiable we'll hit it, consequences be damned.
March 21, 2016
I pointed my car east to save the season. To be fair, we booked the cabin in the National Parc of the Gaspé more than a year ago, but I started really looking forward to it only a couple of weeks ago when I finally gave up on the "Big One."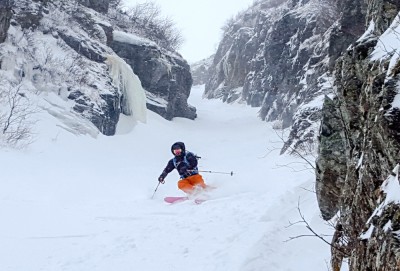 I wasn't travelling with the crazed giddiness of a Weather Channel stormchaser out to find a town-swallowing tornado. Instead my car ate the clicks of the empty roads like an albatross on the thermals just ahead of the summer temps that were working their way up from the US.
Arriving to some semblance of winter, it was clear that the skiing would probably be very good, if thinner than on my previous trip four years ago. However, under the circumstances of the season this one had the opportunity to be even more memorable.
May 26, 2015
As the days of spring grow longer and the valleys turn green, east coast skiers are left with two options: ski the man-made glacier on Superstar at Killington, or head to the high alpine terrain of the Presidential Range in New Hampshire.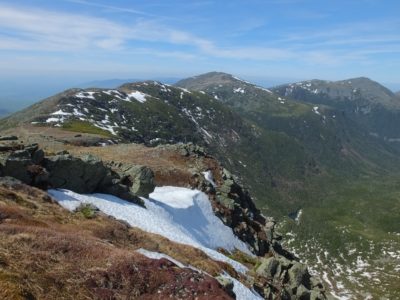 My plan was to backpack into the Great Gulf, a huge cirque cut by glaciers on the northeast side of Mount Washington. From there I'd set up a base camp which would allow me to access the snow-filled gullies spilling off the flank of the northeast's highest peak.
I shouldered a heavy pack, loaded with camping and ski gear. I chose a campsite about three miles in, with a spectacular view into the gulf, and the rushing waters of the Peabody River below. That night I slept to the soothing sounds of thunderstorms, knowing that they would give the gullies a nice overnight grooming.