Category:
Backcountry
January 14, 2014
It's funny how a piece of equipment can change how you think about a sport. Skiers in the forum are excited about wide waxless backcountry skis for powder in rolling terrain. In theory, I got it.
But then I was in the Garnet Hill Ski Shop in North River NY, and actually saw for the first time, in real life, the Scarpa T4s pictured above. I've seen that photo many times, but had never seen them for real, in the plastic.
Because they don't have thermo-moldable liners you can try them on and see how they fit.  I'm a 27.5 Mondo and the shop had multiple pairs in my size and other average mens sizes. Adam the ski shop guy said "they're tight as hell getting your foot in but if that is your size they'll feel great when they are on."  He was right.
October 8, 2013
OK Slip Falls is among the highest waterfalls in New York State. Located in the Adirondacks north of Route 28, halfway between North River and Indian Lake, the falls cascade nearly 250 feet in one spot on its path from OK Slip Pond to the Hudson River.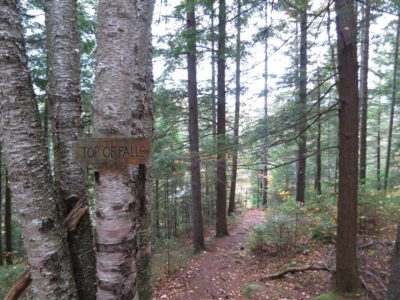 I've imagined OK Slip Falls ever since the late 70s when I first read about the remote and inaccessible wonder. For as long as I can remember, OK Slip Brook has been on land owned by the Finch Pryn paper company.
But in 2009, the OK Slip Tract was acquired by Nature Conservancy and in the past year the lands were sold to the state in a blockbuster land deal that included diverse parcels throughout the central and southwestern Adirondacks.