Blog:
Backcountry
March 27, 2017
For some of us the relationship between real life and skiing is dynamic, and at times can seem adversarial. Even with a green light from responsibility, once-a-season storms, plowed roads and solid gear, you still need some luck to have a legendary weekend.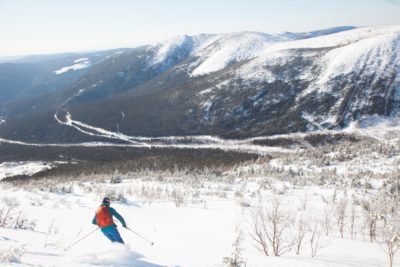 Even if everything goes sideways you can still have tons of fun, it's just a bit harder to pretend that you're living Warren Miller's sickest dream. Many of us won't ever be called to "get in da chopper" and rip two-thousand vertical feet in thirty seconds.
Perhaps this is why the Chic Choc mountains are a sweet spot for me. Going there is a kind of lucid dreaming. The mountains are stunning, yet also reasonable to get up, and down for almost any fit, motivated skier. And while there are now helicopters and sleds to help you with the hard part, I like doing it on my own.
March 21, 2017
After a big day at Plattekill on Wednesday, I went home to work Thursday and Friday morning. Out the door at 1pm on Friday afternoon, I drove to our ski hut in Johnsburg, NY.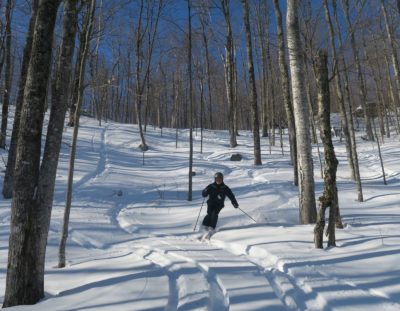 The next morning I was at the North Creek Ski Bowl early. Things were looking good when my friend Duck stepped into the yurt before first chair to boot up. After a lone warmup run on Moxham, we went into the trees, and struck paydirt.
We hit our favorites hard and then headed up to Burnt Ridge. We ran into another musketeer — Suds — en route. Riding the quad we could see that ropes were down on the trees, and we hit Boreas in fine shape.
January 2, 2017
I always look forward to the moment when I first step into the snow. It gives me a line on what to expect from the ski days ahead.
On Tuesday, I was surprised by what I found. That first step into the snow step was soft-ish, with just a hint of crunch. Ten inches of compressed snow remained from the last liquid event and it didn't feel super saturated. Of course it was just above freezing.
Now, I know the Almaguin Highlands guys don't ski the pipeline before it sets, but that's not how we roll down here on Christian Hill. If it's skiable we'll hit it, consequences be damned.