Blog:
Backcountry
May 26, 2015
As the days of spring grow longer and the valleys turn green, east coast skiers are left with two options: ski the man-made glacier on Superstar at Killington, or head to the high alpine terrain of the Presidential Range in New Hampshire.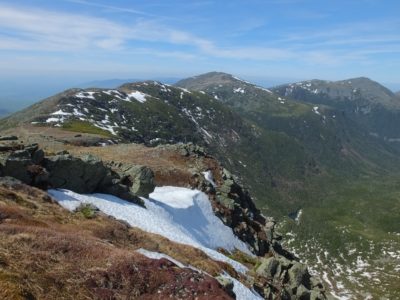 My plan was to backpack into the Great Gulf, a huge cirque cut by glaciers on the northeast side of Mount Washington. From there I'd set up a base camp which would allow me to access the snow-filled gullies spilling off the flank of the northeast's highest peak.
I shouldered a heavy pack, loaded with camping and ski gear. I chose a campsite about three miles in, with a spectacular view into the gulf, and the rushing waters of the Peabody River below. That night I slept to the soothing sounds of thunderstorms, knowing that they would give the gullies a nice overnight grooming.
March 18, 2015
The Adirondack High Peaks are a mystery to me. Seen from afar, they are both vast and tiny, occupying a fraction of the otherwise enormous park. Even with the stunning density of 4000 footers accessible from the Adirondack Loj, they're both in your face and utterly inaccessible.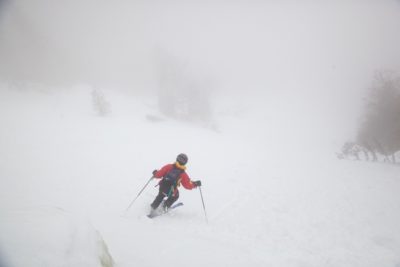 I know this well as many of my backcountry trips to the park end with epic workouts and fantastic stories, but often don't have much to do with the skiing.
Last Sunday I had a bag packed with technical gear for my first ski descent down the Trap Dyke, but my body hardly felt up for the task and a familiar sense of a mission unaccomplished set in its place. Rather than continuing up from the Marcy Dam to pursue Colden, our group allowed me to present a case to try the Angel Slides on Wright Peak instead.
January 5, 2015
For skiers who prefer earning their turns away from resorts, few winter pleasures compare to overnighting in a backcountry hut. No traveling to the trailhead: Just open the front door.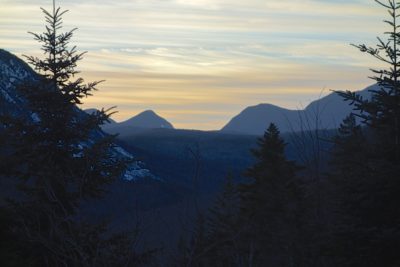 In the Northeast hut options are limited, but hardly non-existent. David Goodman, author of Best Backcountry Skiing in the Northeast, considers the Appalachian Mountain Club's Zealand Falls Hut the best option for hut-based ski touring in the region. With two nights booked between Christmas and New Year's, my party of two hit the trail in New Hampshire's White Mountain National Forest.
Unfortunately, the Grinch stole Christmas for northeastern skiers, decimating our early-season snowpack with rain and warm temperatures. Over three days along the busy Zealand Winter Trails, we were the only group foolhardy enough to attempt a ski tour – everyone else sported hiking boots with traction aids and just-in-case snowshoes that they never used.