Blog:
Adirondacks
September 2, 2014
Garnet mining is an important part of the history of the Gore Mountain region. And, right in our neighborhood, is an old abandoned garnet mine; the Hooper Mine on Garnet Hill.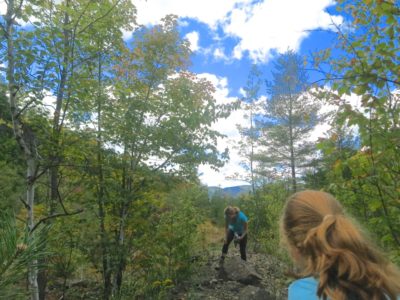 The garnet from this area was (and is) prized for the way it fractures, making it very valuable for abrasives like sandpaper. In 1878 the Barton family began mining on the backside of Gore Mountain.
Twenty years later Frank Hooper started his mining operation near Balm of Gilead Mountain.  Hooper's mine wasn't as rich as Barton's, but to some extent, he made up for it with ingenuity.
August 28, 2014
The name Vanderwhacker first came onto my radar when I realized that the state land crossed by the Raymond Brook Ski Trail was part of the Vanderwhacker Wild Forest.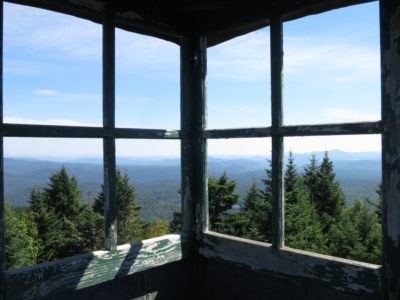 The Vanderwhacker Wild Forest is a diverse and discontinuous DEC construct, the center piece of which is Vanderwhacker Mountain and the Fire Tower.
With 1700 feet of elevation gain in two and a half miles I figured my wife, our daughter and I could handle it, even with a late start.
August 5, 2014
With my arm back in order, and a camping trip for my girlfriends birthday at Lewey Lake on tap, the stars seemed aligned to get my summer back on track.
Although Lewey is practically in Gore's backyard, I haven't spent much time in this part of the Adirondacks. The drive on endless two-lane blacktop serves to remind you that the park really is huge, despite the fact that we made good time getting there from NYC.
The campground was groomed to perfection, clearly a different summer meaning but I'll take it. With ample space between us and our neighbors and perfectly clean sites we felt pretty spoiled.