Blog:
Adirondacks
November 21, 2014
Slowly but surely, ski resorts have been coming online this week like lightbulbs on an aerial map of the northeast. First a flash from central Vermont as Killington kicked off the region's ski season, then a flicker from Maine as lifts began cranking at Sunday River.
Even Governor Cuomo got into the act, announcing last Friday that Whiteface and Gore were opening for the season. In other words, it was time to get skiing.
The rain blanketing the Hudson Valley on Monday held the promise of snow further north, though with a warming trend that was likely pushing the rain-snow line at least as high as the Killington summit and possibly a good ways up Whiteface as well. I weighed my options: a $54 early season lift ticket at Killington for guaranteed skiing all day, or chance it with skinning up Whiteface as they remain closed during the week before starting full-time operations this weekend.
October 27, 2014
I'm fascinated by lifts and lift technology, so I was excited when GM Mike Pratt offered me the chance to visit Gore Mountain for an update on the new lift, the Adirondack Express 2.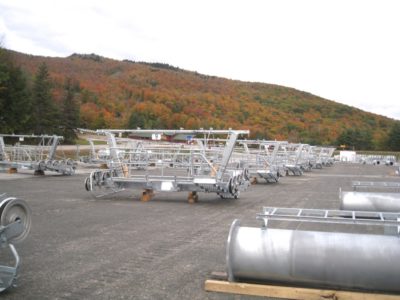 As we were driving into the parking lot, we saw all of the new lift parts lined up in the parking lot, ready to go.
The new high speed quad is a bottom drive with the same configuration as the relatively new Burnt Ridge Quad. The motor is 700 horsepower and runs off of 480 volts.
Max design speed for the new lift is 1100 feet per minute (fpm) like the Burnt Ridge Quad and Gondola. While it's unlikely that it will be run at full speed, it will still be considerably faster than the old lift.
September 30, 2014
If you go west on Route 8 out of Wevertown NY, about five miles past the Eleventh Mountain trailhead, you'll find a parking area near the confluence of Shanty Brook and the East Branch of the Sacandaga River.
From there you can catch nice glimpse of Shanty Cliffs and begin hiking toward the outcrop that hovers 700 feet above the road. This past weekend I was with former DEC forest ranger Steve Ovitt, looking for a hike that would let us enjoy the peaking foliage.
We started by walking down to the river for some easy, beautiful views. Then we set off up the west side of Shanty Brook.