Blog:
Adirondacks
December 18, 2014
Cascade concrete. Sierra cement. West Coast skiers have endearing nicknames for the moisture-laden snow that doesn't ski like champagne powder but can come down in fountains.
While the northeast sees every imaginable kind of winter precipitation, our mountains tend to get icy before they get heavy. Not this past week. Now we've earned our own coinage: Adirondack Asphalt.
Winter Storm Damon was touch-and-go for much of the region as sleet, ice, freezing rain, and plain old rain foiled the hopes for a 100% snow event. Luckily, on our side of Lake Champlain, the Adirondack High Peaks stayed almost entirely snow to the tune of two feet.
December 11, 2014
Hickory Ski Center in Warrensburg, NY is an American ski treasure. Equal parts museum and first-rate ski hill, Hickory is simple, wonderful, and reliably true to its roots. From its quirky surface lifts to hand-built fire pit and deck, little has changed over the years.  The Ski Center is a throwback to a simpler time evoking memories of your first time on skis.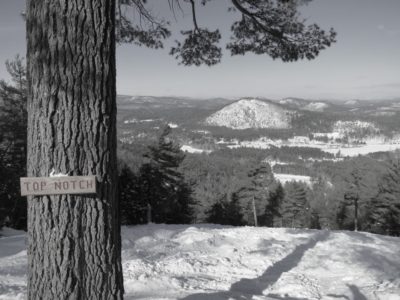 Founded by 10th Mountain Division ski troopers returning from combat in Europe, Hickory's trails, lodge and lifts display the craftsmanship of the greatest generation.  Today, Hickory operates with the help of dedicated volunteers who cut trails each fall and serve on the board of directors.
The summit is 1,200 feet above the banks of the Hudson River and the ski area boasts the sixth highest vertical drop in New York. The hill features quality expert and tree skiing runs that use the full vertical without runout.  Lifts turn on weekends and holidays when there is enough natural snow. The hill faces north so a motivated weekend warrior actually has a shot at powder on Saturday.
December 1, 2014
Ski Day 5: Garnet Hill Lodge had a Ski Shop Open House all weekend, with music and free skiing. On Friday after our drive to the mountains, we made some late day nordic turns on Upper Tailings, Old Faithful and Lift Line.
Saturday Neve got her new gear through the annual GHL kids nordic gear exchange ($20/year) and we picked up our seasons passes. The girls headed back to the cabin to do some sledding. I was surprised they didn't want to ski but I soldiered on, heading out solo towards the intersection of Trapper and 4H.
Like the day before, my intention was to check out the view from the Upper Tailings then head down 4H to Old Faithful. But also like the day before, after I enjoyed the view, as I skied past Lift Line… it sucked me in.