Category:
Adirondacks
April 16, 2014
A ski mountain's reputation for management is tied, in part, to temperature and precipitation. There are exceptions but it's certainly easier to be a ski ops genius when it's cold and snowy.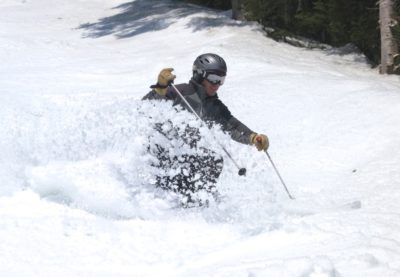 When it comes to spring, base depth is the key, and it's also affected by some factors beyond a GMs control.  Ideally you'll get and/or make enough snow to survive some inevitable spring rain to spin lifts on some warm and sunny weekends, satisfying passholders and selling more passes for the next season.
This season had a quick start, a tough middle and a stellar finish. At Gore season totals for snowfall will come in around average, but much of that total fell after February 1st.
March 17, 2014
The sticker is modeled after one of the most iconic images in skiing: a rectangle with two lines of elegant, efficient text offset by white and red: "Mad River Glen: Ski It If You Can't Ski Hickory."
When I first saw one, I chuckled at the different possible meanings presented by both the original and the parody. Like too many New York State skiers, though, I continued driving right past Hickory Ski Center on my way to Gore for years without much consideration for the mysterious mountain in Warrensburg.
I knew the place operated on a similar principal to that at Mad River: preserving the classic, pre-corporate ski experience. Unfortunately, part of that experience means Hickory doesn't have any snowmaking, and in recent seasons sparse snowfall in the southern Adirondacks has left it closed more often than not.
February 24, 2014
I packed my car in the rain and weighed my options. I was getting a late start, but with February comes a later setting sun and options, especially this year with everybody pushing 100% coverage.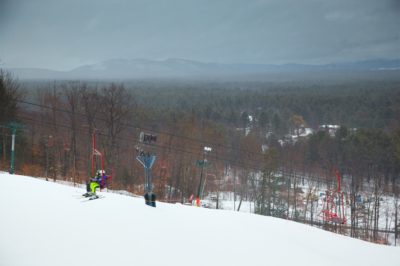 I recently saw a weather guy call this week the seventh inning of the season. I guess that makes sense, because if you're a serious skier you know that we're deep into the game, even as we hope for solid March and extra frames.
With everything on the table, I drove to West Mountain for the first time since 2012. I'd have a night skiing option if I arrived late or wanted to grab more vertical. West is located so close to I87 that even with the weather, I didn't think the drive would be tough.