Blog:
Adirondacks
August 31, 2015
Everything changes and from what I can see summer vacation is no different. In the old days, we'd use our time off to explore the Siamese Ponds Wilderness and the south central Adirondacks.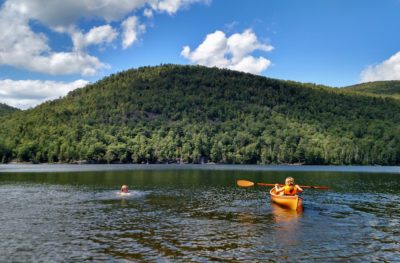 We'd push our week or ten days of time off as late in the season as possible. That time right after Labor Day is possibly the best time of the year in the mountains, outside of ski season.
Now we take it when we can get it. When our daughter entered kindergarten, like many families, we moved our vacation into late August, after camp and before school. Sometimes, our schedule of activities shortens that long week in the mountains into a long weekend.
July 28, 2015
I put in another work weekend at our camp in North River.  It's not really work to me — stacking firewood and improving our trails — it's exactly what I want to do with my free time in summer.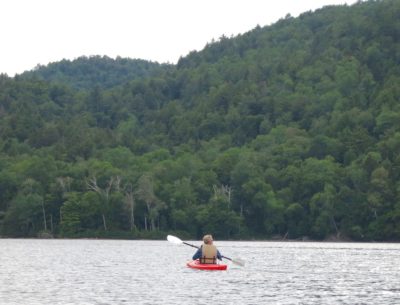 I actually daydream about cabin projects from my desk at work. Six million acres of opportunity for adventure all around, and I'm completely content on just a handful of hectares.
But Thirteenth Lake is practically in our backyard. Big and beautiful and right there, the lake is hard for us to ignore. After working on the Red Trail for the better part of the day we drove to the boat launch and put in. Even on a gray day the lake is a special place.
June 30, 2015
Two winters ago, on a bit of an impulse, I asked my friend and professional trail designer Steve Ovitt to evaluate the potential of our property for dual purpose nordic/mountain biking trails.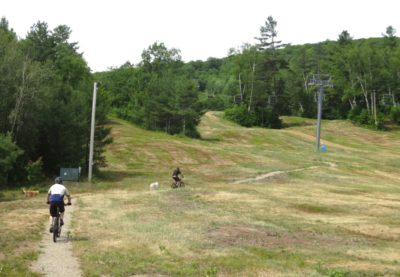 Steve's evaluation was enthusiastic and now, two summers later, we are all in, doing trail maintenance and riding on our land. I never imagined biking out the back door could be almost as much fun as skiing. Indeed it is.
After two days of blowing, raking, trimming and riding our trails, I ventured down to North Creek Ski Bowl to check out the relatively new trails that Steve designed and built for the town of Johnsburg.