Author Archives: x10003q
March 14, 2016
In a low snow year, Hunter was reporting most of its terrain open. Weather forecasts were calling for a warm and sunny April day in March and I was thinking about Hunter for a day of midweek skiing.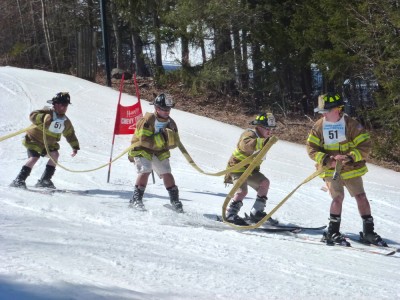 Temperatures ranged from the 40s to the 60s on my ride up, base to summit. The baseball hat and sunglasses were mandatory, but I was comfortable in my light ski pants with shorts underneath, a breathable shirt and a windbreaker.
Normal for midweek, the lifts and trails were empty. Hunter was hosting the annual fireman's races and there were plenty of firemen on the mountain, some wearing full gear and some wearing shorts only.
September 30, 2015
Last month we visited beautiful Rangeley, Maine, home to Saddleback Mountain. The area is also known as the High Peaks region and has eight of Maine's fourteen 4000-foot peaks. We rented a cabin at Hunters Cove on Rangeley Lake.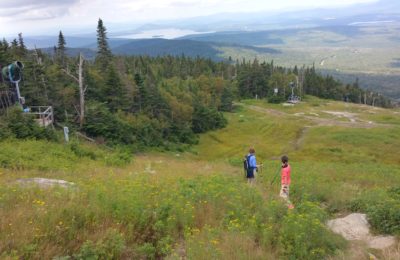 The Saddleback Mountain base lodge is eight miles from Rangeley's main street and sits at 2400 feet. There are two ways up the mountain, 5.1 miles on the Appalachian Trail or two miles up the main face of the ski area.
We chose the ski trail. The hike starts at the beautiful base lodge and follows the green-rated Wheeler and the blue-rated Gray Ghost to the top of the Rangeley Double. We continued up the Tri Color to the top of the Kennebago Quad. There is a short, narrow trail to the summit from just above the quad.
January 20, 2015
On Monday I ventured 45 minutes to Mt Peter in Warwick, NY, with my 3rd grader. After Sunday's ice storm turned into a gully washer, I was a little unsure of what the trails would look like when we got to the mountain.
We were pleasantly surprised to see that pretty much the entire mountain was open on deep manmade snow. We booted up in the beautiful Sunrise Lodge. It is a fully windowed post and beam building that sits almost on the trails. A great spot for familiies, it is heated and has AC for summer events.
About 20 feet away is a snack bar offering a nice variety of food and drinks including hamburgers and hot dogs. There is also a full service cafeteria, a bar and a creperie.