July 16, 2014
Recently we had the chance to see the progress that's been made on Gore's big summer project: the replacement of the Adirondack Express.  What impressed us was the amount of work that's required to complete a job of this size.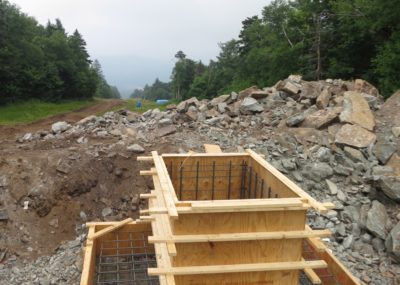 The original lift required twenty-eight towers to cover the 7000 foot expanse from Gore's base to the saddle on Bear Mountain. The new express will require twenty free-standing lift towers to do the same.
Each one of those twenty towers will sit on a deep footing that will rest below grade on a surface that was blasted out of bedrock. Within each of these craters a form is being built that will contain the rebar, concrete and bolt configuration needed to hold up the massive towers.