October 3, 2016
During this 2016 offseason Gore has continued the move toward snowmaking efficiency and improved early season operations. At the same time nordic trails are being developed at Ski Bowl Park.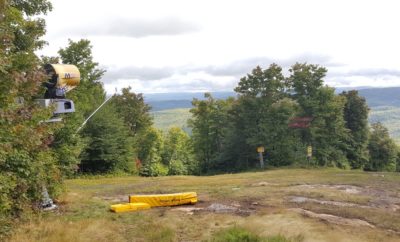 Sixty (60) new Ratnik Baby Snow Giants have been purchased to replace the aging fleet of Ratnik ground guns.
These guns are spec'd to produce at temperatures up to a wet bulb of 31 degrees, while using 40% less air versus a traditional Ratnik ground gun.
September 20, 2016
Plattekill Mountain and NYSkiBlog are super stoked to announce the sixth annual Tree Skiing Work Day at Plattekill in Roxbury NY has been moved to Saturday October 29, 2016.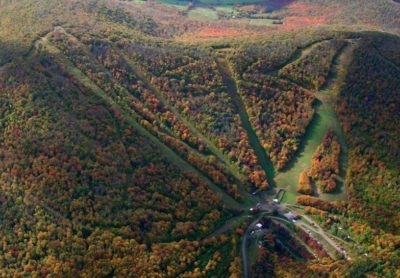 We're recruiting a motivated, smiling crew of lopper wielding powder fiends to help develop some of the Catskills best tree skiing. Our longterm goal remains true boundary-to-boundary skiing at a ski area that wants you to pursue your passion all over the mountain.
Plattekill regulars know the mountain has it all: steep terrain, good snowfall and a great vibe. You can access it all without liftlines.
October 12, 2015
We're already in mid-October — prime time for hatching destination trip plans for the coming season. It's around this time that reports from the previous season come in handy, whether you're hunting for new places to visit in the northeast, out west, or elsewhere.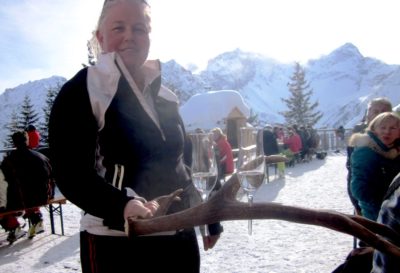 From the elsewhere file comes a new magazine article from James, who, forum members may recall, went on what looked like a pretty sweet road trip through the Vorarlberg region along Austria's western border.
He sent back a blur of photos and stories of big mountains, tons of snow, cute towns, delectable desserts, and most memorably — this pic of a smiling Austrian woman bringing glasses of schnaps in a set of deer antlers. If this doesn't get your winter juices flowing, it might be time to buy a pair of white pants and move to Florida.
Please read the NY Ski Magazine feature:
Vorarlberg, Austria: Just Under the Radar