Author Archives: miker92
February 14, 2013
Just south of South Colton, New York, where Route 56 weaves through a little ravine, there was a one-way bridge with a stop light. As a student at St. Lawrence University, I've probably spent a full hour of my life waiting at that light on trips to Big Tupper or Gore or home to Saratoga Springs.
I first noticed the Snow Bowl during my Freshman year. Behind the brook on the west side of the road, I noted potential. There are a few clearings down the fall line of a fairly steep, small mountain.
By the end of that year, I had heard all the stories. That was the SLU Snow Bowl, only closed and sold to the state in the last ten years. It had been home to a couple of rope tows, a snack bar, and some of the most raging college parties in history.
December 31, 2011
Browsing Facebook a few weeks ago, I came across a photo posted by Mad River Glen. The image, of the loading area of the Sunnyside Double chair, bore the caption "Notice anything new?" I didn't. Then I saw the sign: "This lift services terrain park features."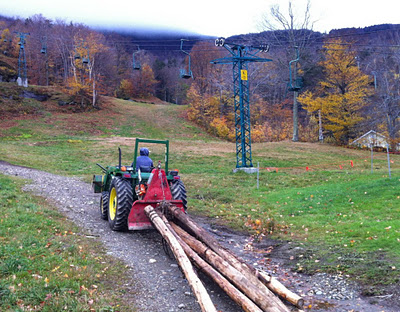 I admit I was a bit surprised that one of the Northeast's most prized natural playgrounds would be adding man-made features, considering the old-school atmosphere associated with Mad River. I spoke with Eric Friedman, Director of Marketing and Shareholder Relations, to find out more about the new park setup.
The Mad River Glen Freestyle Team, made up of some of Vermont's best young rippers, was instrumental in getting the park off the ground. Coaches and team members have had this on their wish lists for years. Ry Young, the head coach, spearheaded the project, putting in time and effort to make his team's wish into reality.
December 9, 2011
Advertisers spend a lot of time trying to fuse the words "effortless" and "skiing." Flip to an ad for Beaver Creek in Ski Magazine and you'll probably find a pampered skier making silky turns across a canvas of untracked corduroy. Just like a professional dancer, he or she has probably trained for years to produce a smooth performance.
Enter Bode Miller. He may be popular with the ladies, but his skiing is anything but smooth. Just listen to the yelling in the start house as Miller prepares to throw his body through every turn in the course ahead. The finesse is there, but he's not afraid to look like he's trying.
Miller's win in the World Cup downhill shouldn't be a surprise. He put together an exceptionally smooth run, betraying his fight against physics only a couple of times. The guy knows what he's doing and last week at Beaver Creek, he served up a reminder to fans and competitors alike that he's still got it.