Author Archives: Marcski
July 19, 2016
My wife, our pooch Crosby and I were in the great Adirondack North Country for a weekend. With lakes surrounded by mountains practically wherever you look, it was the perfect venue for a nice, relaxing weekend filled with some great hiking.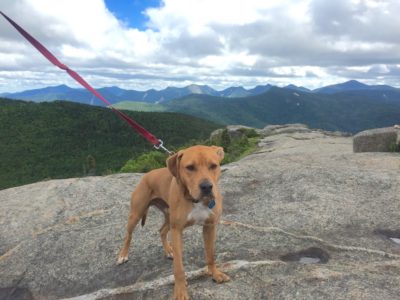 We bagged Cascade and Porter on Saturday afternoon once the light mist subsided. The day turned out quite nice. The weather improved dramatically from the morning and while it stayed cool, the clouds broke and the views from the top were outstanding.
They say Cascade is the easiest of the 46ers. But it's not an easy hike compared to most mountains I have hiked in the Catskills or the Greens. The terrain is more rugged, and at times, the trail is little more than a path of boulders through the forest.
May 31, 2016
My interest in telemark began decades ago, as a young boy caught up in the wonder of skiing. I was always curious about those weird, bearded, old guys in the corner of the lodge with their cool, funky bindings.
Before February of 2015, my telemark experience was limited to a few days floundering on my brother's old setup: 1st generation Atomic shaped skis, 7tm releasable bindings and a soft 3 buckle boot. I started with two days at Alta's clinic designed for advanced alpine skiers learning to tele.
Last January, I met a strong telemark skier, new to Plattekill, who I started referring to as "tele quiver guy" in my head. Each of his skis, ranging from short slalom race skis to long, stiff, FIS GS skis to DPS Wailers and everything in between, were outfitted with 22 Designs' Hammerhead bindings.