Author Archives: Harvey
November 25, 2013
Gore's official opening was last week, but I'm calling this past Saturday the unofficial opening.  After a big warmup on Friday, a true arctic cold front swept through after midnight, putting a lot of pressure on the groomers.
Gore waited as long as possible before grooming, not that the snow really "drained" much in a few hours. Still crews pushed it to the last minute and used two Pisten Bullys to get things done just as the Gondi was going off at 8:30.
The crazy thing is — when I was taking these photos — I was pumped.  It was cold with snow in the forecast and guns were going off across the East Side. There had to be something to turn on, in 1500 feet of vert.
November 4, 2013
My days on the hill are taken up by skiing and photography.  I don't hesitate to admit it, blogging is my second favorite sport.
Good photos are key. For one thing, people are much more likely to read what you've written if you have sharp, imaginative images. Moreover, the words seem to come more easily when I've got five or six solid shots.
On the other hand, we rarely post original video on NYSkiBlog.  It's takes knowledge and energy to create compelling motion pictures.  Even if I was capable, taking good video takes too much away from the experience of skiing.  As evidence: there is only one video posted on our YouTube channel.
October 8, 2013
OK Slip Falls is among the highest waterfalls in New York State. Located in the Adirondacks north of Route 28, halfway between North River and Indian Lake, the falls cascade nearly 250 feet in one spot on its path from OK Slip Pond to the Hudson River.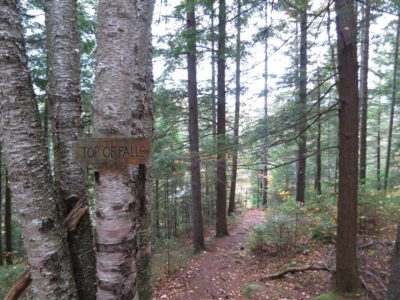 I've imagined OK Slip Falls ever since the late 70s when I first read about the remote and inaccessible wonder. For as long as I can remember, OK Slip Brook has been on land owned by the Finch Pryn paper company.
But in 2009, the OK Slip Tract was acquired by Nature Conservancy and in the past year the lands were sold to the state in a blockbuster land deal that included diverse parcels throughout the central and southwestern Adirondacks.