Author Archives: Harvey
January 25, 2016
I was in denial last week. As always I followed the weather closely and I knew the storm was coming. But as late as Wednesday I was holding out hope that storm would track west and deliver the goods to the mountains. Heaven knows we need it.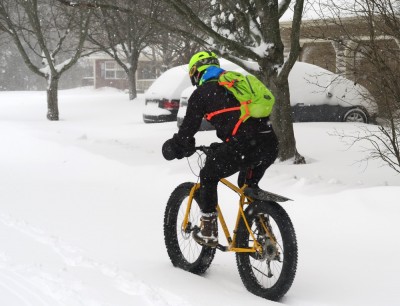 But as the week wore on, the forecast pushed the storm track even farther south and east, and by Friday even the Catskills were getting skunked.
Still, foolishly I clung to my plan: I'd stay home Saturday, weather the storm and if the power stayed on, I get up even earlier than usual, shovel out, and daytrip Plattekill.
January 19, 2016
There was some good skiing this week in the Southern Adirondacks. Snow is still thin in the woods, but resistant and reasonably soft. Both natural and manmade snow quality was pretty good.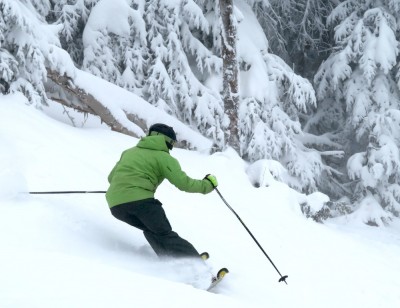 Friday night we came in and got settled. I headed out to night ski the flatter, lower section of the Yellow Trail. The forecast for the next day was mixed, and I wanted to feel the natural snow under my skis, before it was altered by any funky weather.
The snow was good, six or seven inches of fully formed, natural snow sat on top of a six or eight inch durable icy base. You could definitely turn.
January 11, 2016
It wasn't the first day of the season at Plattekill; the words Day 5 were printed on lift tickets. But it was the first time this year that the triple chair delivered skiers to the top, and Laszlo was welcoming all to "opening day."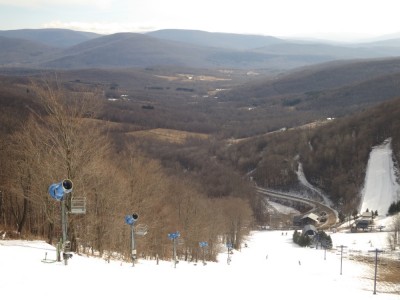 I set my alarm for 4am and was on road before five. A text from Mountain Ops the previous day indicated that one top-to-bottom run was likely via Sundown and Lower Face, and riding on Upper Face was still a possibility.
When we arrived guns were running on Upper Face and it was 12 degrees and calm at the base. I started to think it was going to be a gun running day, until I learned that it was an astonishing twenty degrees warmer at the top.