Monthly Archives:
March 2017
March 27, 2017
For some of us the relationship between real life and skiing is dynamic, and at times can seem adversarial. Even with a green light from responsibility, once-a-season storms, plowed roads and solid gear, you still need some luck to have a legendary weekend.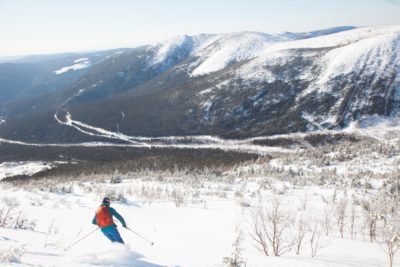 Even if everything goes sideways you can still have tons of fun, it's just a bit harder to pretend that you're living Warren Miller's sickest dream. Many of us won't ever be called to "get in da chopper" and rip two-thousand vertical feet in thirty seconds.
Perhaps this is why the Chic Choc mountains are a sweet spot for me. Going there is a kind of lucid dreaming. The mountains are stunning, yet also reasonable to get up, and down for almost any fit, motivated skier. And while there are now helicopters and sleds to help you with the hard part, I like doing it on my own.
March 21, 2017
After a big day at Plattekill on Wednesday, I went home to work Thursday and Friday morning. Out the door at 1pm on Friday afternoon, I drove to our ski hut in Johnsburg, NY.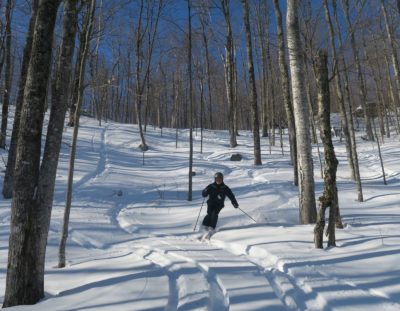 The next morning I was at the North Creek Ski Bowl early. Things were looking good when my friend Duck stepped into the yurt before first chair to boot up. After a lone warmup run on Moxham, we went into the trees, and struck paydirt.
We hit our favorites hard and then headed up to Burnt Ridge. We ran into another musketeer — Suds — en route. Riding the quad we could see that ropes were down on the trees, and we hit Boreas in fine shape.
March 16, 2017
In my own personal utopia, work would be a three-season activity, limited to those times when there is no snow in the hills. But life has a way of expressing it's own opinion, often in an insistent way.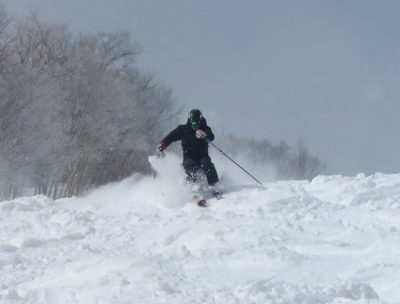 Midweek ski days are rare for me, even in years when my workload is sane. Still, by the time Zach texted me about skiing the biggest winter storm of the season, I had plans to hookup with Stella.
Tuesday the flatlands were shutdown by the storm, and I was the only one who made it into work. My brain was on overdrive juggling different projects, trying to clear the decks, for one day.