Monthly Archives:
April 2015
April 28, 2015
That is one sweet fish. The photo was recent posted in our forums as part of a couloir skiing trip report, and it brought back memories of days when I used to wet a line.
Everybody wants that one big fish. And if you've every gotten one, even just one, it's enough to keep you going for a long time.
The only really big trout I ever caught was in a tiny Adirondack pond. It was just one highlight in a sweet adventure in the Pharoah Lakes Wilderness Area. It's 60,000 acres that's packed with beautiful hills and small ponds. We camped, bushwhacked, hiked and fished for two consecutive weeks.
April 21, 2015
The regular season ended for me a week ago on a fine spring day at Gore. Still, sometimes the best turns come during the post season and mine got off to a sweet start at Plattekill on Sunday.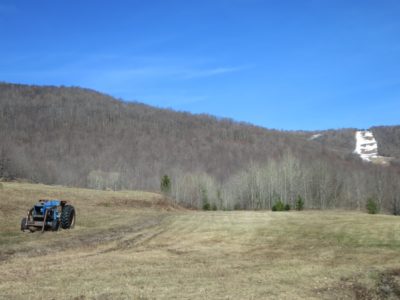 I'd been eyeing the PlatteCam all week. There was still good snow on a few of the trails in view and Blockbuster looked especially choice. I spoke with Laszlo and asked if he'd mind a few skiers earning turns.
He told me that on Sunday he was meeting with Plattekill's Lift Ops team to review what they learned at LMS Conference at Jiminy Peak. They were going to be working all day, his only request was that we stop in to say hello.
April 16, 2015
The ski season is always a moving target. While many mountains plan to start on Black Friday, mother nature often has different ideas. The end of the season is even harder to pin down.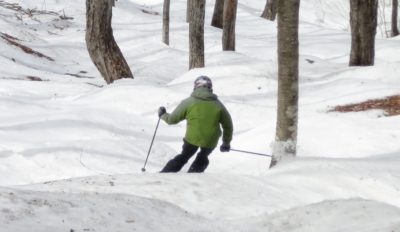 The season reminds me of the baseball calendar. Thin cover snowliage skiing is akin to spring training. The regular season begins on opening day and the All-Star break is Valentine's Day.  But the analogy breaks down because end of the regular season is always a moving target.
Based on what I read on Facebook and in the Forums, last weekend was seen by many as the end. Several mountains called it on Sunday leaving more hills closed than open.