Monthly Archives:
February 2015
February 23, 2015
When Belleayre announced the opening of their new glade "Dreamcatcher" this week, I knew that I had to get back up there to check it out.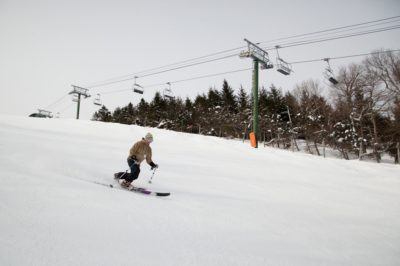 Despite Belle's reputation as a more family oriented mountain, they've added quite a few expert glades in recently and with the deepest February base in memory, I was very curious to see how the mountain was skiing.
The marketing had been a siren call to more people than just myself; I had never seen the lot so full, even with an early arrival. But access was actually pretty easy, and I soon realized that a majority of the skiers must have been in the lodge booting up, as empty chairs were still heading skyward on the 'Ol Reliable, #7.
February 20, 2015
As I waved goodbye to Matt from the motel parking lot, it dawned on me: if, for some reason, my friend Sean couldn't make the drive up from the city that night so we could ski the next day as we'd planned — I'm screwed.
I didn't have much cell service, I didn't have a car, I don't even have a license. How would I get home? Wait around the whole week and take the Hunter bus back next weekend? Take a white-knuckle Uber ride back to Queens in some dude's Camry? Do they even have Uber in Tannersville NY?
I strolled back into the lobby of the infinitely charming and slightly ramshackle Green Mountain View Inn and figured I'd get into the leftover wine from our previous evening and all would work itself out. The universe provides; the universe loves skiing.
February 17, 2015
My first time skiing was at Garnet Hill Lodge in 1989. I had a friend with a ski shop who convinced me to give nordic skiing a try. We bought NNN skis, a complete set up, boots, poles and skis for $125.
The first morning of our stay we skied from the lodge down to the ski shop via the Cut Off Trail. It's pretty steep for a nordic trail with a 90-degree turn at the bottom of the steepest section. It was right after a rain/freeze and we were out before the groomer.
When I got to the corner, it wasn't pretty. I spent a minute on the ground wondering what the hell I was doing.