Monthly Archives:
November 2014
November 25, 2014
The recent monster lake effect event in New York created real friction for hundreds of thousands of people in western part of the state. At the same time, two NY State ski areas were "grazed" by the storm. Holiday Valley reported 23 inches and Snow Ridge pulled in 35 inches of snow.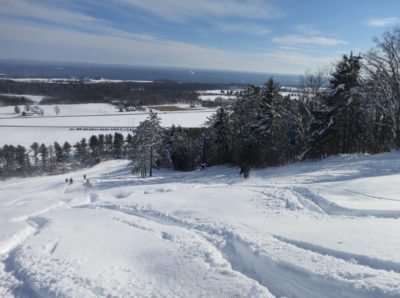 In our forum, skiers were focused on Snow Ridge NY. I was no exception. The idea of November powder… I'd never skied it before. I did actually ski October pow once.
I was up before dawn on Friday headed to Gore. I made record time and was booting up at 11:30. I skied the afternoon, starting out on cambered skis then moving to rocker. The snow was good with guns blowing nearly top to bottom. The goal was really to get Day 1 in, before heading to Snow Ridge, for the pow opening on Saturday.
November 21, 2014
Slowly but surely, ski resorts have been coming online this week like lightbulbs on an aerial map of the northeast. First a flash from central Vermont as Killington kicked off the region's ski season, then a flicker from Maine as lifts began cranking at Sunday River.
Even Governor Cuomo got into the act, announcing last Friday that Whiteface and Gore were opening for the season. In other words, it was time to get skiing.
The rain blanketing the Hudson Valley on Monday held the promise of snow further north, though with a warming trend that was likely pushing the rain-snow line at least as high as the Killington summit and possibly a good ways up Whiteface as well.
November 13, 2014
As someone who's positioned himself as a fan of low-profile, off-the-beaten-path ski areas, I always feel a bit conflicted when visiting and writing about resorts that are big, popular, and for lack of a better descriptor "mainstream."
That said, a cigar isn't always a cigar and on a handful of visits to the Alps, I've been to several major ski regions that are not only big, popular, and armed with completely up-to-date infrastructure, but also charming, full of local color, and with a number of worthwhile bail-out options to avoid the hordes. The Portes du Soleil in the northern Alps qualifies as one of these.
That's why my recent interview with Nadine Chevalier, Co-Director at the tourism office in the Portes du Soleil's biggest village, was noteworthy. She spent as much time talking about the region's intangibles — tradition, folklore, authenticity — as its supersized skiing stats: 265 miles of marked trails spread across a very conservative 10,000 skiable acres. During our discussion, she also painted an interesting picture of what it's like to grow up and spend her professional life immersed in the culture of the Alps.
Please read our interview with Nadine Chevalier:
Portes du Soleil, Room to Roam