Monthly Archives:
June 2014
June 30, 2014
For the past few years, I haven't considered it truly summer until I hike Breakneck Ridge. Rated the Best Day Hike in America by Trails.com, it's a stunning scramble above the Hudson with views that improve as you climb each impossible notch.
Then the trail ambles back through glorious meadows and the day concludes with a burger and fireworks at the All-American town of Beacon, NY.
But Breakneck Ridge is to some degree a victim of its own popularity, and on a spectacular Saturday with a late start, I wasn't looking forward to being the 1000th car parked down the road from the trailhead.
June 25, 2014
I recently moved to Brooklyn from Connecticut. It was a big life change and in the process, I missed the chance to do something special with my mom on Mothers Day. This past weekend, I rectified that, telling her we were going to see a secret wonder upstate.
We headed up together on Saturday to the central Adirondacks. After a beautiful drive up the Taconic Parkway we made our way to North Creek, NY. We pulled in to the center of town at around 6pm and headed down past the oversized blue Adirondack chair to check in with our rafting company.
We found people bringing out food, a band setting up on a stage, children playing, and smiling people all around. All were getting ready for the second annual Summer Solstice party hosted by Square Eddy Expeditions owners/guides Linc Marsac and Lori P Benton.
June 9, 2014
The song's chorus echoes "Aint No Cure for the Summertime Blues." Fewer people remember the oldies classic every year but the words still ring true for skiers.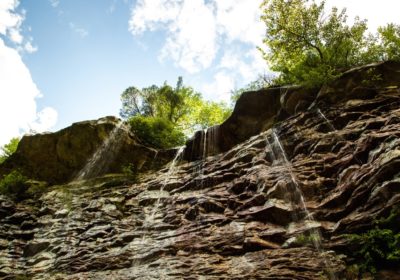 My favorite cure to escape the heat of the city has been the collection of parks that make up what is known as "The Gunks."
It seems there is always something else to see there. The cliff flanked ridge allows unparalleled views of the Catskills to the north as well as the Hudson Highlands to the south.