Monthly Archives:
March 2013
March 29, 2013
The driveway is unassuming. On one side of the lodge is a small garden apartment complex, where little kids sledded while big kids warmed up for a ski race. On the other side of the lodge is a public school. A short connector links a field to one side of the school with the ski trails. Presto, instant after-school ski training!
Welcome to Dewey Mountain, just west of Saranac Lake town center. With 13 km of ski trails shoehorned into 30 acres, Dewey may not look big, but it packs a lot into a small ski area. And if you live nearby and don't want to drive the 20 miles to Mount van Hoevenberg, it's a great resource. Imagine being able to ski for an hour after work, during lunch hour, or after running errands on Saturday, right in your neighborhood.
March 26, 2013
Last year I scared myself skiing the Wasatch backcountry. The reported avalanche danger varied between "considerable" and "high"— and it had been a particularly fatal year. Although I skied with a guide, I still got somewhat lost in my own fears and uncertainty.  Part of my trepidation came from a lack of avalanche knowledge and experience.
I've never been very good going along for the ride or following the leader. As a kid, I recall keeping myself awake during long car trips to ensure that the adult driver didn't fall asleep at the wheel. I need the sense of control that only understanding provides.
With this background, I spent a recent weekend in the Adirondack High Peaks taking a Level 1 avalanche course from the American Avalanche Institute and Cloudsplitter Guides out of Keene Valley.
March 23, 2013
Ski Day 28: I left work yesterday at 3pm and headed north on 87. All week I watched a persistent uplevel disturbance that was producing a steady diet of light snow at higher elevations.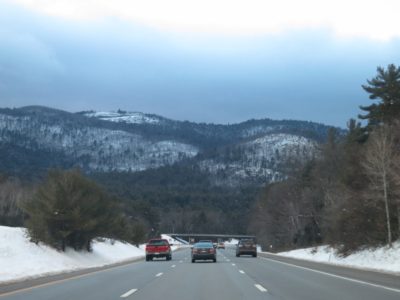 As I approached the Catskill and the Adirondacks, both ranges were shrouded in light snowshowers. I pulled into the North Creek Ski Bowl Base Area at 7:30 and headed into the lodge to boot up.
I had the place almost to myself. I wasn't sure how many runs I could get in, so I saved a little time by dressing lightly.