Monthly Archives:
February 2013
February 25, 2013
In late January, I headed for Slide Mountain, at 4,180 feet the highest peak in the Catskills. I had just finished a grueling stretch at work and was eager to get out of the city. I went alone. As I skinned up from the parking lot, I had to rely on the sporadic trail markers and hope that the predicted fog and "wintery mix" would hold off. The trail had some snow, and lots of exposed rocks as well.
As I climbed I considered whether backcountry skiing is merely a way to access unskied lines or something different altogether. I'm sure it means different things to different skiers, but for me it's about being in the mountains and escaping.
When I was younger, I'd spend my days at Killington skiing the bumps under the chairlift: Cascade, Needle's Eye and Outer Limits were my go-to spots. I was good, and I knew it. The pleasure was in the show. I dug hearing comments from the lift above me or sensing admiring eyes.
February 20, 2013
Having spent a good deal of my life on skis, I was always aware of that hole in my resume: nordic skiing. I resolved to fix it this season, with several opportunities for guiding on my winter calendar. I was looking forward to this trip, but I must admit, as an addicted downhiller, at first, I found it difficult to get excited for a nordic day when there was fresh pow in the mountains.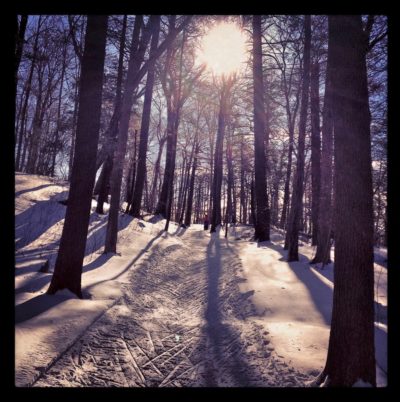 I'm familiar with Fahnestock Winter Park. I'd passed it so many times, both underneath it on Route 9, to get to the more popular Breakneck Ridge, and through it on the Taconic State Parkway.  I have hiked there many times and the trails are often empty.  The AT runs right through the park on its way to Connecticut, which in my mind, gives the place a little more character.
But nothing could have prepared me for my recent visit. The snow from Nemo released an explosion of pent up desire within the nordic community, and the volume of snow prevented the park from opening up at all the day before.