Yearly Archives:
2013
December 27, 2013
Stuffed with winter cheer, holiday spirit and Chinese food ours was a multi-faceted ski mission, for a good cause. Earlier in the month I saw ISKINY's learn-to-ski deal offering $35 packages at a number of New York resorts, including the nearby (to me) Mount Peter.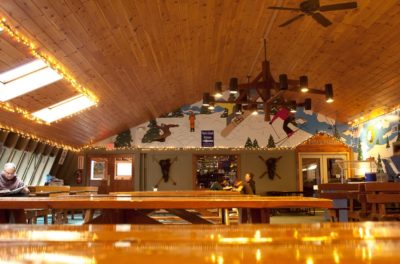 I was inspired. My holiday schedule was packed with weddings and family and errands, but I really wanted to get on the slopes.  Mount Peter gave me a great price to get two excited never-evers on the slopes. Off we went.
It's hard not to make this sound like a gift to myself, but I really wanted to share the gift of skiing with a classmate and her boyfriend. Skiing is easily my most favorite winter activity, but I find it hard to explain why newbies should try it.
December 23, 2013
This past week, I attended the Master's Academy at Killington skiing with PSIA Demo Team Member Robin Barnes. Robin skis 300 days a year working at Heavenly during our winter and is the ski school director at Portillo during our summer.
The key concept for our group was a simple stance adjustment to make sure we had contact with both ankles on the boot cuff all through the turn. A more traditional PSIA turn concept is to start the long-leg / short-leg extension in your ankle, so this was surprisingly tricky to master for our group of experienced level 3 instructors.
We spent the first two days focusing exclusively on this adjustment so we could make it second nature. It takes lots of repetition to break a long-term movement pattern. The key thought for me is to feel the ankle / lower-leg biting and holding onto the lower part of the boot tongue. Robin suggested that we imagine we had teeth tattooed on our lower legs and ankles. The extension / flexion for pressure control comes from the knees and not the ankles.
December 20, 2013
After two weeks of good cold temperatures and a couple of decent storms, Hunter's ski report was touting midwinter conditions.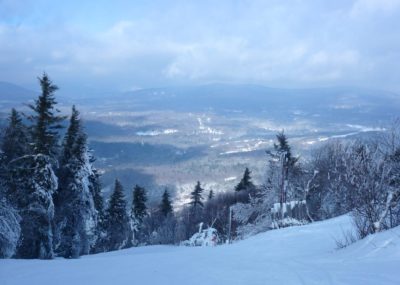 And it was all true.
I met up with NYSB's Meteorologist JasonWx and daughter Zoey. We spent the morning cranking out high speed, packed powder turns all over the main face of Hunter.