Yearly Archives:
2013
December 5, 2013
Even though I've written three dozen resort features over the past decade, I still have a long way to go before I've visited all of North America's major ski regions, particularly out west.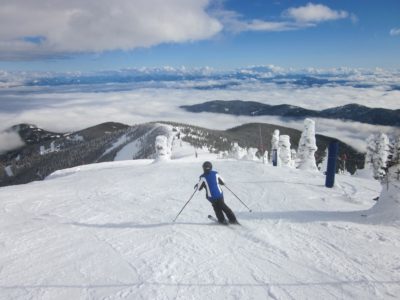 Just off the top of my head, I still haven't made turns in California, British Columbia, Montana, western Washington and Oregon, central Idaho, Maine, or Quebec's Gaspe Peninsula. Being based near NYC (at least for the near future), that should keep me busy for a while.
Thankfully, last March, I finally got around to a region that had evaded my grasp for a while: the Inland Northwest, located in eastern Washington and northern Idaho. Within a two-hour drive of the Spokane airport, there are five interesting and varied ski areas covering the gamut from full-service resorts to entertaining off-the-beaten-path day areas. What's more, everything is surrounded by beautiful scenery: lakes, mountains, and gorgeous vistas, along with the cute towns of Sandpoint and Coeur d'Alene. Explore:
NY Ski Magazine
Inland Northwest: Destination, Not A Gateway
November 30, 2013
There was a lot of talk about Black Friday this year, and the morning was exceptionally dark when I left the house at 6 to beat the crowds at Hunter's opening day. But driving through Tannersville early was more reminiscent of a Christmas snow-globe scene then madness that shoppers dealt with in the local malls.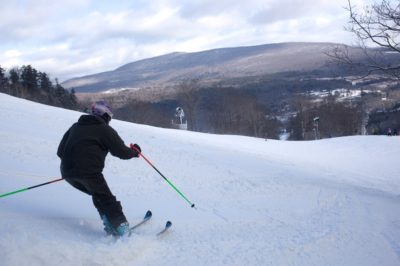 In another contrast, there were no mixed reactions to opening day for skiing, either. The crowds that I had worried about seemed more likely to enjoy the day like a college reunion then fight for a pole position on I87 or down the aisles at the big box.
The camaraderie was palpable as the cheers went up for the first chair. My first opening day at Hunter was everything I could have hoped it would be. I passed my iPhone around at Thanksgiving, showing webcam proof that the skiing was going to be good. To some extent I was trying to convince myself to shake off the massive feast and go skiing.
November 25, 2013
Gore's official opening was last week, but I'm calling this past Saturday the unofficial opening.  After a big warmup on Friday, a true arctic cold front swept through after midnight, putting a lot of pressure on the groomers.
Gore waited as long as possible before grooming, not that the snow really "drained" much in a few hours. Still crews pushed it to the last minute and used two Pisten Bullys to get things done just as the Gondi was going off at 8:30.
The crazy thing is — when I was taking these photos — I was pumped.  It was cold with snow in the forecast and guns were going off across the East Side. There had to be something to turn on, in 1500 feet of vert.