Yearly Archives:
2012
December 29, 2012
Ski Day 8: Skiing in a storm is exciting. Today, there was a bit of a surprise storm.  What was billed as light snow in the Adirondacks turned into more. It snowed all day and it piled up.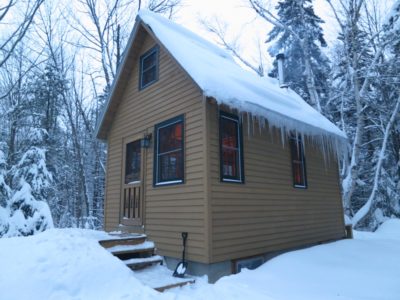 It was a change of routine for us. Instead of getting up before dawn to be at the mountain at 7:30… we hung out, watched the snow, did some sledding and skiing in the woods..  We headed for some terrain right near the cabin, where the owner has granted us permission to ski.
It's fun setting tracks in deep snow, if it's not too deep.  Today's snow was about 18 dense inches on top of a just barely breakable layer. I started in the morning setting a track through the trees, with the primary goal of creating a single, continuous line, with no false starts or dead-end branches to confuse someone who just wanted to follow tracks.
December 27, 2012
Last weekend I said that it really felt like winter. For the last two days it actually was winter across New York and New England.  A storm we'd been watching for a week arrived in the North Country and delivered as promised.
At our place in New York it started to snow at 8pm last night and continued pretty steadily throughout the day, leaving sixteen inches of snow, and — for me at least — the idea that just maybe normal winters aren't a thing of the past.
It's been a while since I skied deep fresh snow, and I was really looking forward to it. But also to be honest, I was anxious, after my injury in dense snow last spring.
Last season I made a connection with the guys from Worth Skis, and ordered a pair of Daily Bread for just such an occasion. After some extended consideration over the possibility of buying my first fixed heel binding, time ran out, and the storm was on our doorstep. I did the safest, easiest, cheapest thing, and mounted them with Rottefella R8s, my tele binding of choice.
December 25, 2012
I recently taught a Play-and-Ski lesson for two 5-year old kids. After watching them ski I asked one little girl how she learned to slow down. I got the answer I anticipated: "I just make a bigger pizza."
From the very early stages skiers learn that a bigger wedge increases resistance to the snow. Many young kids take this knowledge and apply it to all their turns or anytime they need to slow or stop. Occasionally an inexperienced instructor or parent reinforces this big pizza idea and it firmly takes hold. The bigger wedge moves their center of mass farther back putting them farther into the back seat making all the skiing skills harder to apply.