Monthly Archives:
February 2011
February 28, 2011
The North Creek Ski Bowl is an important part of the history of skiing in New York. On that spot, in 1935, Carl Shaefer installed the state's first rope tow. North Creek's first lift-served ski area was the final destination of the snow trains that ran until World War II.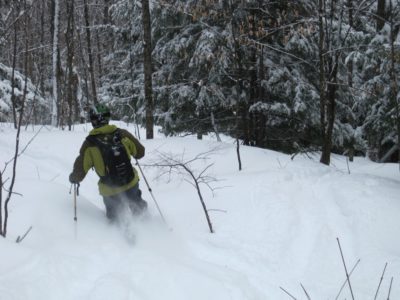 But the small mountain is more than an historical treasure. It's home to some great tree skiing. Please take a look at a trip report complete with for Ski Bowl photos.
February 25, 2011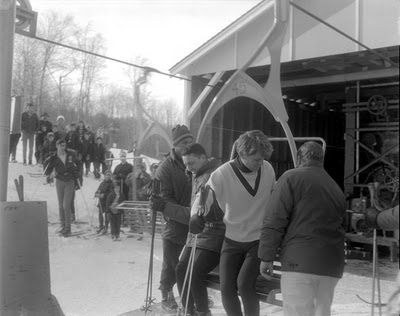 Robert Kennedy at Big Tupper
Ski Big Tupper is presenting a slideshow of hundreds of photos of the mountain from construction in 1960 through the 1980s. Images will be shown on monitors throughout the base lodge. Shots include helicopters setting the towers for Chair 3, ski jumping contests, and the classic image above of Bobby Kennedy loading onto Chair 1. The exhibit is running now through this Sunday 2/27 at Big Tupper.
February 23, 2011
I continue to think about the challenge of digitally capturing ski days. Powerful, imaginative images can be a source of joy forever. But I don't want shooting to diminish the ski experience for myself or others.
There's something I like about this sequence of images. They're sharp enough, the conditions were decent, and Rochester Mark is a great skier.
But there's more to it than that. The series was taken with a continuous shooting feature. If you (click to) enlarge the panel above and glance from image to image, you can almost imagine Mark in action. When I run quickly through those photos in a digital album, it's very evocative of skiing. In a rudimentary way, it simulates movement.