Monthly Archives:
January 2011
January 31, 2011
The latest GFS 0z and 6z are pointing towards a major snow event for the Catskills, Adirondacks and all of ski country. Both runs are a little weaker and further south than previous runs with the 500mb closed low.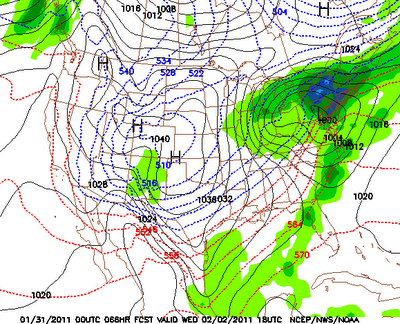 This is a good thing because this storm track should shut off warming aloft. Normally a storm track like this one could deliver a mixed bag of precipitation types for New York and the Northeast. In this case, the position of the High in eastern Canada is crucial in the set up — it will hold all that cold air in place. Bottom line: as of 7:30 a.m. Monday, we're calling for 12-24 for all of the major ski areas.

January 30, 2011
Saturday was the grand re-opening of the Little Gore Ski Bowl. The ski area was the destination of the ski trains in the 1930s and operated until the mid-1970s.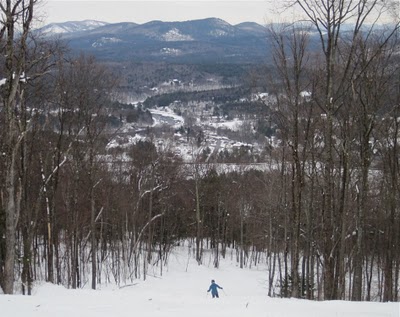 Along with the rebirth of Hickory and Big Tupper, the Little Gore Ski Bowl is a third historically important New York ski hill that has come back to life over the last couple of years. In addition, Saturday represented another step forward in the long term plan to connect Gore and the town of North Creek.
January 25, 2011
In the spring of 2007, I started skiing with a camera. The next summer, I realized how enjoyable it is to look back at photos from the winter, and since 2008, I've carried a camera whenever I'm out on snow.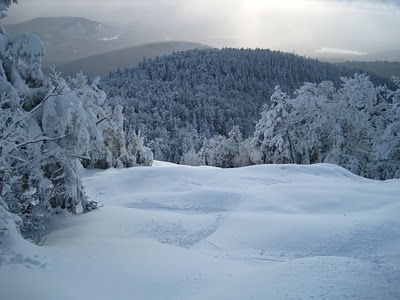 I've always considered myself a skier, with a camera, as opposed to a photographer on skis. My primary goal has always been skiing, with photography serving to enhance the experience and memories.
But this year there's been a shift in my thinking. Especially when I'm skiing alone. I'm starting to see skiing and photography as an integrated activity seeking out images — sometimes to the point of interrupting a great string of turns to pull up and capture the moment. A few times, like in the photo above, I've relinquished first tracks to capture a shot. It's not unusual for me to take 150 pictures in a day.