Monthly Archives:
November 2010
November 30, 2010
By now, we all know about the impending monsoon. This forecast is for Thursday and beyond. A negative NAO finally sets up, bringing cold air from East Central Canada into our neck of the woods, and keeping it here. Temps in the mountains will remain below freezing for at least one week. This should allow for round-the-clock snowmaking.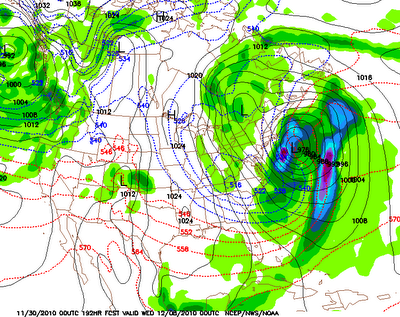 A byproduct of the block in the North Atlantic is cyclogenesis and you know what that means — a potential storm forming on the east coast. The GFS is showing exactly that in about eight days, but its precise track needs to be worked out.
All in all, I am very excited about this pattern.
November 28, 2010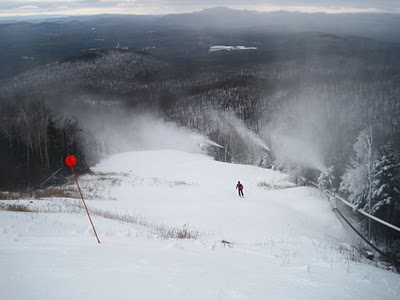 Topridge Opens
Ski Day 2: At 10:20 on Sunday, Gore Mountain dropped the rope on Topridge, the first expert terrain of the season. There were some water bars to manage, and a few other irregularities. The temperature/humidity was right on the borderline for snowmaking, so surfaces weren't silk you get when you make snow at 5 degrees. But it was the right kind of snow to be laying down as a base. No one was complaining and it was a blast skiing it. Pitch, swales and a very carvable surface.
November 27, 2010
Ski Day 1: Temps never got as low as predicted, but it snowed an inch overnight. It was still flurrying in the morning, so we were pretty excited as we headed over to the hill. The gondola went green right on time, and I was amazed that there was no line on opening day.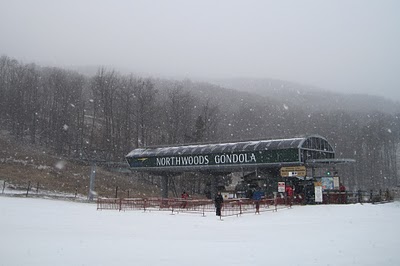 It seems like opening days are crowded and filled with technical difficulty for both mountain and skier. But today was pretty smooth. And when I walked through the parking lot, but for the lack of natural snow, it could have been a midwinter Wednesday.