Monthly Archives:
May 2010
May 31, 2010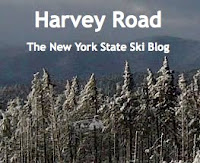 Harvey Road was launched in October of 2008. It started out as a place to store our Gore Mountain ski pictures and trip reports. In time, we added all important weather links on the home page, and started to think of the site as a resource for southern Adirondack skiers.
In the summer of 2009, we realized the site would be more valuable if other skiers contributed, so we reached out to new authors. As others came on board, and we began covering more ski areas. We soon realized that the common denominator was our love for NY State skiing. Whiteface, Gore Mountain, Hunter, Belleayre, Plattekill, Hickory Ski Center and Greek Peak were key components of our collective ski seasons. To reflect our expanded focus, Harvey Road is now the New York Ski Blog located at:
Please bookmark our new url as one of your favorites and make the move with us. It's our new home on the web. We're still Harvey Road, but at a new address.
May 30, 2010
Since I was 6 years old I'd always had a season pass at Hunter Mountain. My parents, Dorothy and Jack skied Hunter and Dad was a ski instructor there for a long time. After they moved to Florida; Orville Slutzky, still comped my son and me a season pass every year. An act of generosity I'll always remember.
At the time, I didn't have many friends/acquaintances that skied. Those that did wanted to go on to Vermont instead of going to Hunter. I'd ski Hunter with my son or by myself. Once he went away to college I either went to Hunter by myself or with a couple of guys from work. Since I'm a teacher, I also skied one night a week with my school ski club.
My wife was never too interested, but as my daughter and youngest son got older, I took them with me and we had a great time. I was getting out probably 30+ times a year, either alone, with my kids, with the occasional friend or on a school trip.
Life was good, but I couldn't shake the feeling that something was missing. I felt unfulfilled. When I was a kid we had a house at Hunter that we shared with my uncle who was also a ski instructor. There was always friends and family, loads of people to ski with, après parties. We felt very much connected to the Hunter ski community, especially with those involved in the ski school. It was more than just skiing, it was a lifestyle. I missed that lifestyle and it didn't look like I was going to be a part of it again anytime soon.