Monthly Archives:
January 2010
January 30, 2010
Ithaca, NY: 1/29/10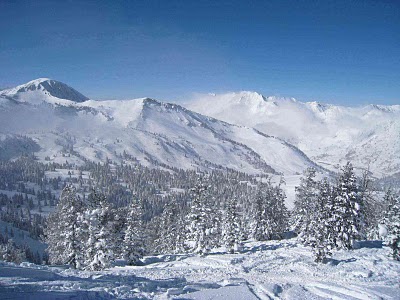 In 24 hours I'll be jetting to The Promised Land. The skis are in their travel bag, along with an assortment of outerwear and my helmet. Boots and ski pants are in their bag which will be my carry-on. I borrowed Acidchrist's Pieps, shovel and probe. Gear is packed. Tying up loose ends, finishing up work, paying bills, charging batteries and making lists. Bought my Utah Super Pass. Stay tuned to Harvey Road.
January 27, 2010
This weekend I set out to ski at two very different Vermont ski areas, Killington "The Beast of the East" and Mad River Glen "Ski It If You Can." I expected two very different ski experiences, but there were some unexpected surprises along the way.
Killington, VT: Saturday 1/23/10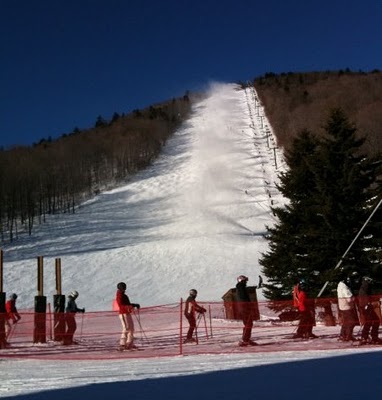 21 Gun Salute on Outer Limits
For me, there are a five things that make a super ski day:
Powder
Good Company
Nice Weather
Good Snow Conditions
Challenging Terrain
There hadn't been any new snow in the previous 5 days. Let's look at the other four.
Friends (check), Bluebird day (check), Snowpack (check), Big Vermont mountains (check). Four of five ingredients in place. Not a bad start.
Since we decided to ski Killington on a beautiful Saturday, crowd avoidance was key. "The Beast" can see more than 20,000 people on a busy day. With years of Killington Ambassadorship under my belt from my ski bum days, I've got the beta to beat the crowd. For starters, we bypassed the Killington access road and drove over to Bear Mountain.
At 9 am, we pulled up to a man-made snowstorm on Outer Limits. We scored a great parking spot. It was sunny and warming, so we booted up in the lot. Wished we hadn't forgotten the lawn chairs. It did not seem very busy. We took advantage, and spent the morning working the goods at Bear.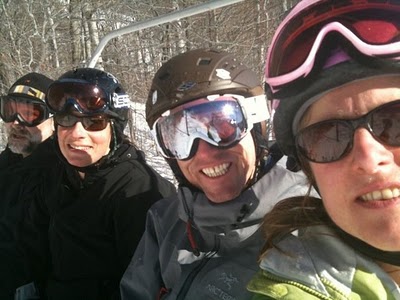 Team Gore: EDeO, Powderqueen, Chuck and Pam
The first run had to be under the guns on Outer Limits, Killington's premier showcase mogul run. The snow was soft and sweet. It was the best man-made snow we skied all day. Then off to explore the road less traveled, looking for less manicured, more natural terrain.