Monthly Archives:
October 2009
October 25, 2009
Zelda and I spent the day in the car traveling in a driving rainstorm to visit Steiner's Sports. It was well worth the trip. We went to the Valatie store.  It's an unassuming building on the right as you come into town from I90.

We'd made the decision this off-season to move Zelda to alpine gear in the hope that we could spend more time skiing together and share more terrain. I know little about fixed-heel gear, but had always assumed the boots were less than comfortable. I've seen countless alpiners, unbuckle their boots at every opportunity. You really never see telefolk doing this and I came to the conclusion that the boots must be less comfortable.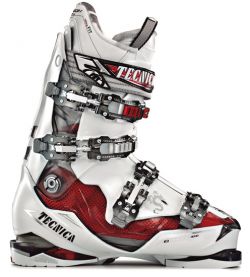 On the recommendation of Highpeaksdrifter we decided to check out Steiner's, home to Garrick — the boot fitting master. Last month we picked out a pair of Technica Boots in the Glenmont store, and today they were waiting for us when we arrived for a 1pm appointment with Garrick.
October 19, 2009
From the Glens Falls Post Star: artist rendering of how wind towers would look from Gore. I'll be honest: I'm torn. Alternative energy all the way, jobs in America, and a cleaner environment.
But looking at them? Actually they are more elegant than lifts and we're ok with those. And if I stay in the trees I'll never see them.
October 19, 2009
Here's a recycled idea for a stimulus package. A short term boost and a long-term jobs program:
So…for a $1M let's say you build a tram from Main Street to the Ski Bowl…more construction jobs right away. And then I think…the limited rooms, and then the restaurants in town would rise in value.  I'd bet you get more investment in town. What a cool way to pay back the folks who are anchoring main street now…. Braley & Noxon, Sarahs, The Alpine, etc. I bet Joel Beaudin and the Copperfield investors would do a jig.
I know on projects that I've worked on that took multiple years…many times you end up with the RIGHT solution, even though it's not what you started out to do exactly. For this idea to work, BRQ had to be built, and we are getting some value out of it. (Maybe not an amount equal to the cost SO FAR, but the fat lady hasn't sung yet.)
And now the Ski Bowl. Not only is there good terrain over there, but it's an historic ski area that is being brought back to life. Pretty cool.