Monthly Archives:
March 2009
March 29, 2009
The weekend's forecast was quite iffy throughout the week, ranging from rain and mostly cloudy, to eventually partly cloudy high in the 50s. I wasn't ready to end my ski season though Greek Peak had already called it quits, so I watched the weather closely to see if a trip up to Gore would be worthwhile. By Thursday night, the forecast had improved greatly and plans were set in motion.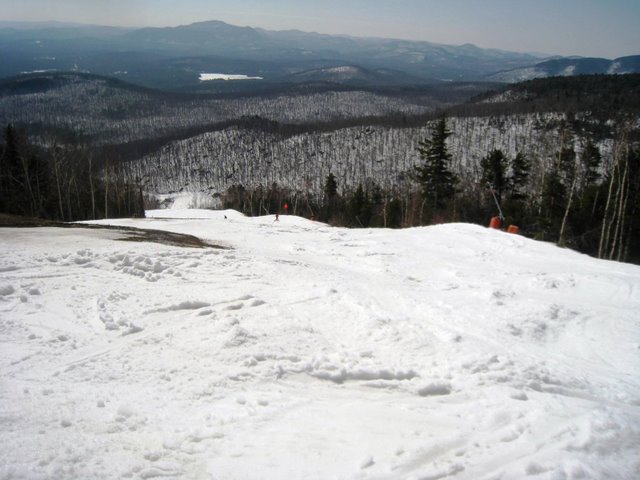 Marilyn and I started at 6:30am from Newfield and were rolling into the parking lot just before 10:30. We were on the soft hero snow by 11 under cloudless bluebird skies. The trails were in great shape and the woods were already soft and had good coverage, especially on the north faces (Darkside). Straightbrook glade was excellent too. Dodging rocks, sticks and dirt made for a better challenge, however, coverage was mostly quite excellent.
We started off with a run on Topridge because we heard that the snow was waning and that exposure would turn to it to mush quickly. It had very nice conditions at that hour and was a nice warm-up for our day. We then headed down Uncas to Straightbrook and worked our way around the Summit for the rest of the morning. We ran into Penny and Charlie (from Ithaca) and continued working all the summit trails until they were ready for lunch. I decided not to stop for lunch and headed over to the Darkside (High Peak area faces north) to see how it was softening there. All the glades were open and were skiing superbly.
I ran into Gore regulars Derek and Lori after just one run alone in the Darkside Glade. Our small group gradually grew as the locals were drawn to the very nice conditions on the Darkside. We went into all of the woods shots, some legal, though each one had a name, too many to remember.
I texted a message to my lunching friends as to where the best skiing was and when they were done eating their deck-grilled burgers they headed that way. In the meantime, I stayed with the local posse until my Ithaca friends caught up to us at the top of the High Peaks chair at 3pm. The locals had some grand plan to finish off their day but knew they had to get back to the summit to retrieve their packs.
I went with my Ithaca pals for the last run of the day. We chose Chatiemac, and boy that run was fabulous. The ride up Topridge was so pleasant. Temps were over 60 at that point. We were getting sad that this was going to be our last run, possibly for the season. At least we were ending on a high note, on such a perfect day. We dedicated our last run to our friend Shelly who had broke her leg at Gore in January. The 4 of us were with her when it happened and we were discussing her speedy recovery and that she would be skiing next season. Fox Lair to Wild Air was wonderful. We hit the moguls at the Arena that were from last week's mogul challenge. That was a fun way to end the day, er, possibly the season.
The apres-ski party on the deck was going strong. We had a few beers and I got to see a lot of good friends, many are Gore employees and locals, kicking back, celebrating the warm and sunny day and even talking about the upcoming rafting season that begins next week. A guitarist played Grateful Dead tunes and other classics. It was tough to pull away, but we said our goodbyes and headed out. Four hours later we pulled into a friend's birthday party in Ithaca and enjoyed a few beers around a bonfire where we got to share our adventure with our Ithaca friends. A long and wonderful day.
March 16, 2009
It was one of those glorious spring skiing weekends with soft corn, blazing sunshine and good ski buddies to share it with.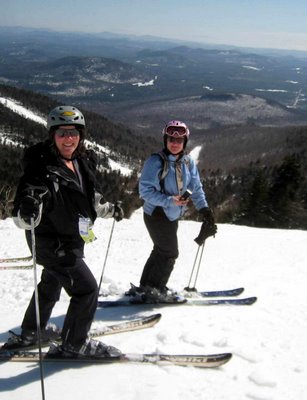 Saturday we'd skied at Greek Peak in perfect spring conditions with a posse of good friends. There is no snow anywhere outside of the ski area here in central NY, so no one believed that there would be any decent snow to ski on. Everyone thought it would be marginal, and for those who made the effort to ski expectations were surpassed. Five of us skied from noon until 5pm. Tailgated lunch and apres in the parking lot. We would have done the Chair 5 "beach" scene, only the mud was thick and deep, so we stuck to the terra firma of the main parking area.
Sunday, Pam, Marilyn and I got an "alpine start", leaving our homes before sunrise.
Beating the church traffic, we had an easy drive and arrived at Gore at 10:50. We were on the gondola by 11:30. The temps were just getting above 40 as we arrived.
The woods were still quite firm, though my crazy local friends had already done a lap all the way to the Ski Bowl and found some softer corn in the woods at lower elevations. The glades in the higher reaches were still very stiff and solid, glazed shiny in some places, so we stuck to the trails, which kept us plenty entertained.
Everything was soft and skied well. The highlights were Lies, Rumor, Top Ridge and Double Barrel.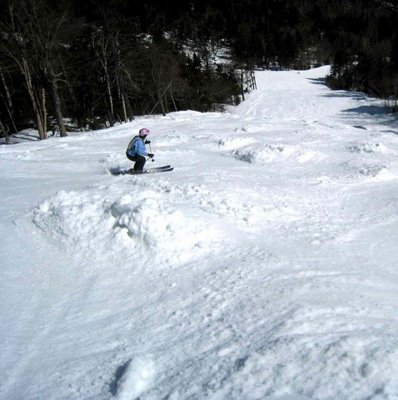 We warmed up with runs on Chatiemac and Hawkeye…both softening nicely.
On our 3rd Straightbrook lift ride the ski patrol was skiing the then closed Double Barrel. It looked glazed, but the glaze was softening in the sun and skied like butter on toast. The toast being the crusty base of ice and rock beneath the butter. They decided to open it and we got on it early and were able to schmear some untouched butter on the toast. It skied quite well. I had a great run and tried to exit high, only I didn't have enough speed to make the lip, so that plan failed. I then had to take the lower exit and got flung from the top of the dip, making for an ugly exit, for all to see from the lift. Oh well, at least I displayed some nice satisfying turns prior to that grand finale. For me, that was the run of the day.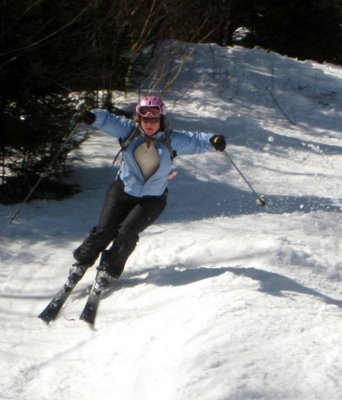 We continued across Hawkeye on the bumps under the lift. They skied so well. The heat was building and it was time for a short break. So we rode the quad to the summit and joined some of our local pals for a break at the picnic tables near the warming hut. Chomped down a pb & j, hydrated and put my fleece sweater in my pack. I was ready for my first run on Rumor of the season.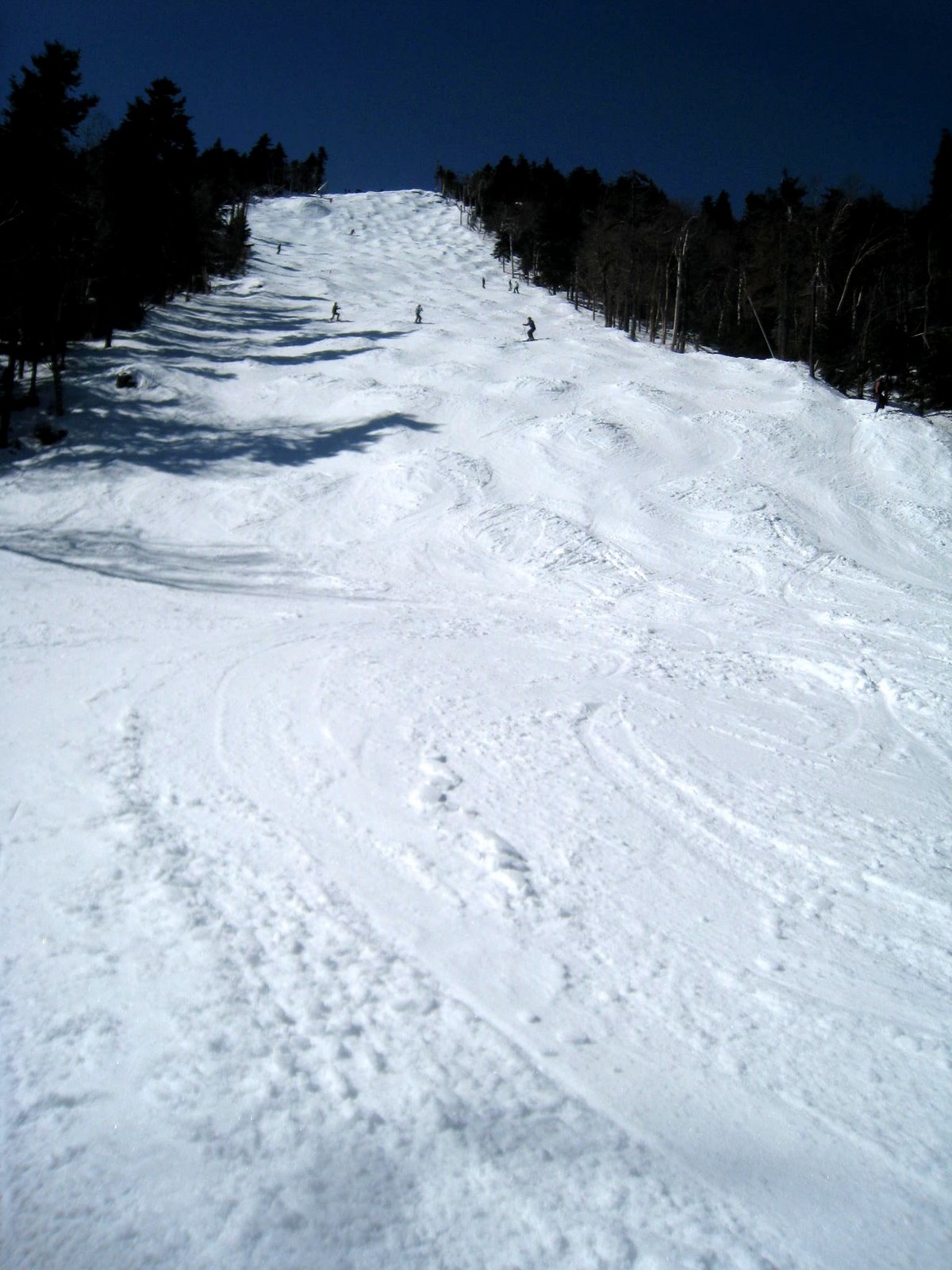 The headwall was a bit sketchy, but once below the exposed rocks it was sweet. There were a lot of people on it because besides Double Barrel, it was the only challenging trail with bumps. Both bump runs got a lot of traffic.
Lies skied the best and didn't really have bumps but got large soft mounds by the end of the day. The corn was especially sweet over there.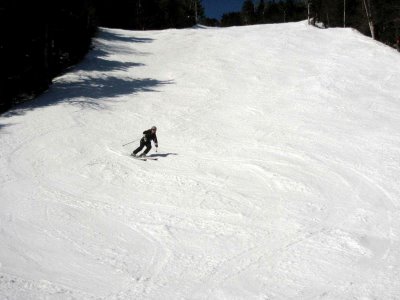 We did a lap on Hullabaloo for a change of scenery. The north side was icy and glazed.
After another break to raid our cooler that was stashed on the deck, we went up to see how Topridge was holding out. It was sweetly soft and corny. It was one of the best runs of the afternoon, but we only got on it once.
We went back to Rumor at 3pm only to find it firming up. It was getting crispy and was more challenging at that late hour than anything we had skied all day. The snow was skied off between the bumps and was no longer soft.
We did one last run on Lies and were herded past the closed Straightbrook lift at 3:30 down Tannery to Topridge. We had hoped to get one last run on Topridge before it was all over, but the rope was up. We skied down Fox Lair to Wild Air…both were super soft and fun. The gondola had already stopped loading and we were done. We did a little deck time in the sun. We were baking in the warm sunshine. Socialized with some friends, drinking the last of our beer.
With a short detour and a quick stop for dinner, we were home by 10, sunburned, aching and smiling. A long day trip, but well worth the effort.
March 5, 2009
I've been thinking about the Gore Mountain vertical drop by lift. The three longest lifts are not in my top 3 favorites.
The lift vertical for the primary lifts:
Gondi: 1703
Express: 1500
BRQuad: 1432
Topridge: 998
Straightbrook: 900
North Chair: 750
High Peaks: 684
Sunway: 520
In order of importance, for me, are some short lifts:
High Peaks: 684
Straightbrook: 900
North Chair: 750
Topridge: 998
Gondola: 1703
BRQuad: 1432
Sunway: 520
Express: 1500
For me High Peaks and Straightbrook are probably tied. North Chair is slow and it helps keeps the Tahawas woods fresh. Topridge serves some great terrain. Topridge itself is steep and long. The run under the Topridge chair…High Pines…is an awesome, fun irregularly soft bumped dream. In fact Gore has three great under the chair runs High Pines, Dark Side and Double Barrel. Any day where you ski all three is a great day.
I only rank the Gondi fourth because you need it. It's the fastest way to the summit. There is some good terrain off it. I just think it's a pain in the butt. It's the only lift on the mountain that you have to avoid at certain hours. The new Quad is very worth skating to, if there is powder and the trees are open. It's sad that a fanatical skier like me would put the new big bucks quad 6th out of eight. On a powder day with the trees open it would probably be 3rd. The Express is a redundant, but key feature. The Gondi can be down or on wind hold, but you can still access the summit.
There's a variety of terrain and it spreads people out. For me…a guy who never really rode lifts until age 40…it's a great place to teleski. Huge percentage of terrain is trees, small huckable cliffs, high speed groomers, and (an admittedly limited amount of) steep terrain. Off the map in-bounds stuff doubles the size of the mountain. With permisssion, I can actually ski from the Gore summit, back to headquarters.