Monthly Archives:
December 2008
December 31, 2008
Ski Day 12: Today was a tale of technical difficulty, and intense battle with the elements …and …I know I've been accused of being an incurable optimist but…great skiing. It's always tough getting Zelda up at 6am at this time of year, especially at the beginning of a trip. It's really dark out and we haven't yet adjusted to an early-to-bed, early-to-rise ski schedule.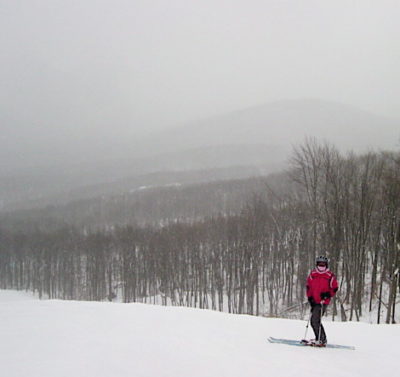 It started snowing about 5:30 this morning and snowed until about 1pm. I'd say in total we got 2 inches. We weren't expecting much snow as the clipper was swinging south of us. Of course, I'll take what I can get. It was 10 degrees, when we left the cabin.
We got to the mountain later than we have in recent memory…it was 8:30 and the Gondi was already running. Our plan was to drop Neve off at Day Care…ski for a while and then see if we could get Neve onto these: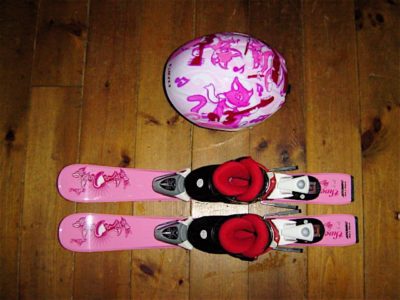 …a semi-impulsive present I bought her yesterday on the drive up. I finally found a guy who didn't think I was TOTALLY INSANE for wanting to put a 30 month old child on alpine skis, so I went for it. $300 bucks for the whole thing: boots ($5, used) skis and bindings ($169) helmet and goggles ($60) a leash and an edgie wedgie for the rest.
Technical difficulties… Zelda left her season pass in NJ. Argh. $25 to get a replacement and $10 for the plastic pass holder. She went into the marketing office and instead they gave her a day pass… that said "forgotten pass" on it. Pretty cool, but tomorrow the issue remains. We rode the Gondi, no line and took Pine Knot toward the summit. After watching the radar show some pretty warm rain over the weekend…conditions were pretty darn ok. Better than some other Christmas weeks we've skied.
Highlights of the day for me were Chatiemac and Lies. Both had been pounded with snowmaking for 2 consecutive days and were covered in sweet bumps. Cold temps and 6 inches of natural snow didn't hurt. It was brutally cold with the wind. The only temp check I had at the mountain was at the base from the nice guy at the Adirondack Express (the triple). He told me it was 13 degrees. So it had to be like FIVE degrees at the summit and in the usual spots…the wind was howling. I was doing laps on Lies and Chatiemac and Zelda was riding Headwaters. Around 11 she said..I have got to get inside my toes are going. We went down to Tannery and up the Topridge chair…headed for the Saddle Lodge. I knew she was struggling. When the chair stopped in the coldest, windiest spot…she started to cry. It's a awful feeling being trapped like that. I didn't know if we were talking digit loss, or just major discomfort. I didn't ask, because it didn't really matter …there was nothing I could do.
We made it to the Saddle which was packed as it always is at midday when the wind is ripping. We took off her boots and her toes looked pink and fine. She had these new knee socks that were so tight around her calves, I was sure that was the problem. I gave her a spare pair of woolies that I carry and it seemed to do the trick. She skied for 2 more hours without a problem. Truthfully I was surprised she went back out.
We hit the new Quad from Twister. Actually you can easily cut from Twister to Echo to cut down on the skating to get over there. I think I skated 10 strokes in all to make the traverse. We skied Echo, which was a first for both of us. It's a beautiful trail and the coverage was pretty good except for the "headwall."
Zelda called it a day a 1pm and I headed for the top to hit Chatiemac a couple more times. LOVE those big soft carvy bumps. I was laughing out loud (LOL) as I jumped over them. There was no way we were going to take Neve out in that weather…so her alpine debut is going to have to wait for another day. Good job by mountain management putting it back together after the ugly weather from the weekend. Tomorrow should be even better. Now I've got to put another log on the fire. It's near zero and the temps are droppin like a stone. Should be a cold one tonight.
December 23, 2008
Ski Day 11
I knew when I woke up this morning, there was a pretty good chance things would be on wind hold. It was howling at our place. And with only half a day to ski…I considered draining the pipes and heading home. But the pull of the mountain got me…
It didn't look good for the Gondi. It wasn't moving at all at 8:15. One piece of true comedy…they announced that the only lift cleared for operation was Lift 3…the Sunway Chair. Everyone from the Gondi line zooped over to the Sunway Chair. The lifty over there got kinda nervous I think. He can usually sleep over there…and he was really anxious for the ok to start loading. For some reason everyone went up, one skier per chair. With all those hotshots riding solo…It was like a scene from Mad River. * * * * It was really cold and windy. The overnight wind had filled the troughs of the bumps across the mountain and most of the glades I hit were pretty good. I rode the Sunway Chair to the top, and hit the Otter Slide Glades:
My second run…as I got onto the chair the lifty told me the BRQ had opened. As I rode up to the midstation, I lengthened my poles for the skate over. I got off at the midstation and pointed em straight down. Just as I was about to make the cut towards the dreaded Cedars… I noticed the Gondi loading and changed my plan.
They ran the Gondi slow and limited it to four or five people to minimize the risk of wind damage. The ride took a long time. Pine Brook, Twister, Straightbrook and Double Barrel Junior were all excellent… especially first (maybe fourth really) tracks below the SB chair…nice windblown in all the troughs.
I was going to take Tannery to Topridge and finish my morning with another run in Twister Glades. When I got to the Topridge Chair it was closed. For my first time, I finished my day taking the cross country trail down to the base. It seemed like fitting ending to the weekend.