Monthly Archives:
March 2008
March 15, 2008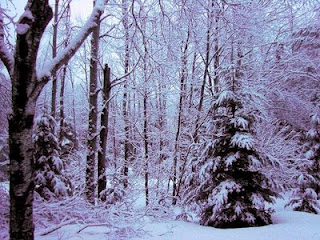 Ski Day 26
My plan was to get up this morning, finish up some of the cleanup and head out, and maybe grab a few turns on the way out. When I woke up… around 6:30…3 inches of dense new snow had fallen. I wasn't expecting it…local npr radio had called for a dusting to half an inch. I thought there must be more betta snow up higher…so ski day 26 was on. Driving down to the Hudson…the snow turned to rain. But as I started to climb up the Gore access road, it went back to sleet.
It was a race day…cars in the parking lot and no space in the ski racks next to the Gondi. These racer kids must come with 5 pairs of skis.
I got on the Gondi as soon as it opened. At the top of Bear Mtn the snow was noticeably less manky, and more powdery. I wanted to wait for the rope to drop for the summit. But Skipat said that they were workin on the bump run for the contest on Sunday and it was going to be a while. I took a run to the bottom. Good move…Sunway was sweet. Anywhere that was untracked was better than carvable. If you looked back you could see your own rooster tails. The snow that fell was dense enough to cling to yesterday's corn. As I got closer to the bottom, the new snow got thinner and thinner…making me that much more anxious to get to the top, where I thought it should be deeper and fluffier.
Next Gondi ride…the rope to the summit had been dropped…and I ran it in the my usual counterclockwise order. Actually not quite. I usually take Pine Knot to the Summit Quad, but today I took Uncas …thinking the less obvious choice would have more fresh on it. Good call on my part. Just a little mank and a lot of energy to ski it. Next was Chatiemac, Hawkeye…over to the Dark Side…Hullabaloo, Open Pit to Lower Darby and then Little Santanoni. I didn't care about pitch…I just wanted untracked. Best was probably Open Pit to Lower Darby, as I was 2nd man through.
I took Headwaters down past the Quad, to Tannery. Rode the Topridge chair and then Topridge the trail. Plenty of untracked if you were willing to risk it all skiing in 6 feet at the side of the trail. It was all good. Everything was in a fog, so I've got no pictures to speak of. By 11 am I was outta there, and I got home to downtown NJ around 6pm. Coupla nice days, and a big relief to find out our place was ok. Not sure if I'll hit my goal of 35 ski days this year. It's been a good year, but I think we need just a bit more magic for this to be considered great, in our Adk corner of the ice coast.
March 14, 2008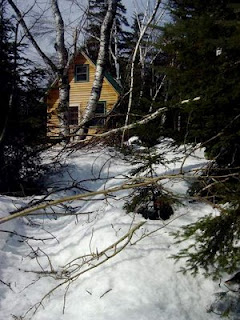 Ski Day 25: This is more of a Bomb Damage Assessment than a TR. I got up this morning in NJ when the baby woke up around 6:45 am. I fed her, and ran some Elmo while I packed, then gave her to her sleepy mother. I got off by about 8 and to North River at 1pm. No stops, no food, no nothin. I really wanted to see the damage from the storm that took out power for 4 days here in Johnsburg. According to National Grid, 990 homes were without power for most of those 4 days. I'd be surprised if there are 2000 homes total in the whole town. (Johnsburg is 200 square miles, and over half wilderness, and maybe another 10% is Gore.)
I was pretty anxious driving up our road. As you got above 1500 feet, down trees and saw dust were everywhere. At the bottom of our driveway, the remains of two big white pines that had been cut up by the power company. Farther up there were three more I had to cut through. The path from the end of the driveway to the cabin had 4 or 5 more.
Somehow, both our buildings sat there untouched. I had heard from my plow guy that "I survived" but I was still nervous as hell walking up that drive. 4 or 5 big branches were on the ground within a few feet of our main building. It's a bit ridiculous I admit…we've got 5 acres, and if we cut down all the trees within 60 or 90 feet of both buildings, we wouldn't have nearly as many trees. Roger, my plow guy says…"you can always tell the flatlander houses, they won't cut down their trees." So I've sized up every tree and branch that is close to the cabin, to decide if it would do damage if it fell. Crazy flatlanders. I cut downed timber for about an hour and a half, to get the CRV up the hill and to clear the path. It was 2:30 and I realized that with the sun and temps in the upper 40s…the corn over at Gore might be better this afternoon than tomorrow or Sunday. I threw my gear on and drove to the hill. I was surprised how many cars were in the lot. I heard a lot of French and other languages in the base area. Still there were no liftlines.
I got 5 runs in, in an hour. Pine Knot, Hawkeye, Cloud, Showcase and I finished with Twister at 4pm. The top was better…devoid of those really wet spots that can stop you dead. It was colder up there and the added pitch seems to drain the excess water better. Conditions were pretty darn good. Carvable corn. I haven't really skied corned up groomers too much in my career. In fact I've done more corn groomers at Tahoe than in the east. It's was hard work teleying…but I knew I only had a few runs so I hit it hard. Above 2500 feet, the trees were really ravaged. Some aspects were worse than others. Actually I expected worse, based on the damage I saw over at our place.
I'd be very surprised if there was any more tree skiing at Gore this year. It makes me wonder too if the mountain will have the budget to clear it all out this summer. Looks like I may have misled joe on the Gore bump contest. I didn't see anything that looked like a bump run on Hawkeye or anywhere else. What I did see was a bunch of snowmaking equipment lined up on Hawkeye, with no snowmaking temps in sight. Not sure if I'll ski tomorrow or not. I got a bit more work to do with the saw. Then I'll either take off, or ski a few hours and book. It's been a long day.
March 2, 2008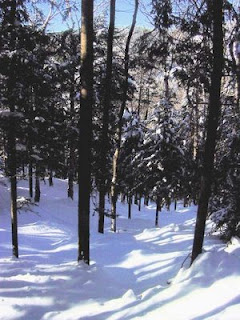 Ski Day 24: Gore was really good again on Sunday. It snowed another 2 inches at our place, and probably more at the top. Plus, the wind had filled in the troughs of the bumps in the trees and on the trails. Not sure why "wind-blown" has such a bad rap. It guess it can be tough, but not today. Conditions included everything imaginable except maybe crud. Dense powder and lighter powder, cut-up, wind blown and some mank down lower towards the end of the day. Pine Brook was first…I was second man in, and there were options. It's so deep now that new lines are opening up as the snow covers everything. Skiing over obstacles that you don't even know are there. I found the best snow/lines in Pine Brook, Straightbrook, Darby Woods, Tahawas, High Pines and Twister. There was a bit of a conga line doing the climb into Tahawas.
Twister Glades were again great to ski fast. It's one of the only tree runs on the mountain that I can basically sprint through, skiing and reacting without really thinking too hard. And off at skiers right, I followed a snowboarders track…to avoid the death funnel at the end of the glade…I found deep untracked. And a funny thing happened. Twister the trail, had been fenced for racing…that orange web fencing. When I got back to the trail I was basically on the trail but behind the fence. So I was ripping all this untracked…untracked since Wed's storm…behind this fence, with the folks "on piste" kinda starring…how did he get there? Same as it ever was.