Monthly Archives:
January 2008
January 26, 2008
Ski Day 19: This is less of a TR and more of a realization. The great early season skiing, and especially New Years Day have changed my approach to lift service skiing. Not sure if approach is even the right word. Actually it started last year on Valentine's Day after the first of four or five major storms that made Winter 06/07 one of the best ever. I was driving North after the storm and I decided that I was finally going to get something "fat."
By phone, I spoke to Jan at The Mountaineer in Keene Valley – a great, professional shop. After 45 minutes on the phone I ordered a pair of K2 World Pistes with G3 bindings to be shipped UPS. These skis are only 80 mm underfoot, but coming from a cross country skiing background – to me – they were fat. Probably more important…these were the first skis I've had with significant sidecut.

I get to the cabin and ski a day on my old Atomics and then the next day, the K2s arrive. As I'm riding the Straightbrook chair, I see these really little kids doing controlled wedge turns through some pretty big bumps. I'm thinking geez come ON, I HAVE to be able to do that. I never seemed to be able to do more than 10 or 15 bumps without loosing rhythm or crashing. Well it turns out, with that much sidecut, I could do it. I started skiing the trees, and also floating in the untracked. The rest of last season is history…it was great for 3 solid months at least. Then, this year…I enjoyed whatever Gore could put together early season. And as I've reported – it was limited, but pretty darn good. So December, and specifically New Years Day comes along, and I'm floating through everything, while being shown around by some very knowledgeable locals from the Gore Forum (thanks Jimmer and the boys).
So on to my "TR." Gore was really pretty good this weekend. Almost all of the on-piste was open and the surface was really good. It's been snowing in dribs and drabs since the thaw, and it been cold enough to make some sweet manmade. Anyone who has been skiing the mountain for a long time knows the great strides they've made with snowmaking. There was 2″ of natural on top of very carvable corduroy. Pine Knot, Chatiemac, Hawkeye…really everything open, top and bottom, was excellent. The headwall on Lies was really edgeable to the point that everyone skiing it was giddy. They opened the Rumor, from the top for the first time this year I think. It was like a pillow fight. Probably the best I've ever skied it when it was primary a manmade surface.
The point of this story is that I've become somewhat jaded about skiing the trails. If the trees aren't open, and/or there aren't soft bumps or untracked, I'm just not that into it. It may be too obvious to say that skiing in natural snow is fun. It's why I love cross country skiing. Natural snow has personality that manmade will never have. But it's more than that. For me…each turn in the trees is a leap of faith that I'll be able to get my skis around. And every time I do, it's a small victory. I love it. Don't get me wrong…it was a great day…I skied with CB and it was fun to see her ski the Hawkeye headwall with some confidence. But I'm jonesin for the trees. One thing was kind of funny…they opened the Tahawas and Otter Slide glades. Two very low angle glades. They were doable but thin. It was almost like they were saying….ok ski this…and then YOU decide if you want to poach the steeper stuff. I said no way.
We skied the whole day, and when we picked up our daughter at the end of the day, it seemed that she was sick…so Day 20 was going to have to wait for another time. All in all – a great day, but I'm wantin more. More trees, more snow, more soft bumps. One other thing…a guy on FirstTracks made a comment to the effect that ANYONE can teley the trees. Like it's cheating. I'm not sure what he meant, as I've never done any fixed heel skiing. Would love to hear what others think about that. To me teley skiing is really hard challenging work. It may be the reason I'm content at Gore. The runs aren't that long and most of the chairs aren't fast. The slow chairs help protect the goods from the ravenous alpine experts who would munch it up quick. I don't mind the poky Dark Side and North Chairs….I need the break. And I'd rather wait in a short or non-existent liftline and spend the time with my butt in the chair looking at the Adirondacks. At 50 years old – I'm still improving – I could be happy at Gore a long time. If it snows.
January 19, 2008
Ski Days 17 and 18: I'd been planning on skiing this weekend for over a month, pending conditions. I had the proverbial "4-hour window" on Friday afternoon to meet with the local phone company, so the plan was to ski the morning and then head back to the cabin. Earlier in the week, I'd been hit with the most heinous "flu" or something and was completely knocked out. I missed 2 days of work – only my 4th and 5th sick days in 22 years with my current company. So I went back to work Thursday, booked out early for the drive to the mountains. Arrived at about 8pm, started the stove and got to bed around 11 pm exhausted, not sure how I could possibly ski.
It snowed over night maybe 5″ and was still snowing pretty good when I got up at 6:30. I had to go for it. First tracks were excellent. While no glades were open almost everything was groomed with the new snow on top. Gondi was OPEN at 7:45 when I arrived (that's pretty early) so I blew off the traditional Egg McGore breakfast and hopped in, solo. At the top of Bear mountain access to the summit was closed. My new thing is to do a lower mountain lap and come back up. I used to wait at the rope for the summit (Pine Knot) to open, not sure why I changed that…maybe to warm up – what a concept. The snow on the lower half was dense and almost consistent, with just a hint of mank. It was fun to ski, but a lot of work. Had to really pressure the rear ski, to keep from going over the handle bars. Spank it, or get spanked.
Back up top…Pine Knot was even better. It must have been colder enough up top to keep any mankiness out. My first 5 or 10 runs up top were some of the best all year. Even with my post-flu condition and my looming appointment with the phone guy, Jan 18 could have been the 2nd best day of the year, for on-piste conditions, after New Years Day. Hawkeye, Chatiemac, Open Pit – everything that was open was great – 6″ of carvable fun. And the corduroy underneath was carvable too. At one point I skied through some corduroy laid bare by a snowboarder and that carved out nicely. My only gripe…why open the Darkside if Lower Steilhang, Hullaballo and Darby are closed? I headed back to the cabin, and of course the phone buy blew me off. 500 miles round trip for an appointment that I set up 2 months ago and confirmed TWICE including the day before. No show. Grrrrrr.
On Saturday, first tracks were also excellent. Not much fresh on top but the corduroy was carvable down to about three inches. They opened Lies and it was like skiing in a pillow fight on the first run. Nice sized soft bumps perfect for bump-tele. It didn't last too long. My second run, and I got my butt kicked. In places you'd go from natural to man-made without warning. I end upside down more than once. After sampling the top, I checked out the bottom which was classic crud. Certainly skiable, but lots of work. I went down to the demo to see if the demo day had any tele gear. Not only was the answer no, but the K2 rep knew less about his skis than I did.
It was now officially MLK weekend and it was busy. A line at the Gondi. I was still pretty tired, and Sunday was looking like BIGTIME windchills. Normally I like to battle the cold, but having just gotten over the flu, I packed it up and headed south. Whining aside, it was definitely worth the trip.
January 5, 2008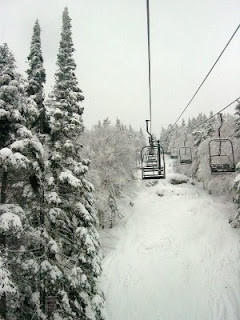 Ski Days 7 – 16 I'm having a hard time with this post. When you ski 9 days straight, it's tough to remember exactly what happened. This much I reasonably sure off :
Thurs 12/27 pm: Arrived to find ankle high snow on the path, fallen since our last visit. We heated our building, made some dinner, watched some Elmo, hit the sack. It snowed 4″ that night.
Friday 12/28: There was talk of a mix, but when I walked through it in the AM, it was fluffy. The whole mountain skied very nicely. I think 2 or 3 glades were open, The Cave, Pinebrook, I forget. Surfaces were soft almost everywhere. 50/50 maybe locals and flatlanders. That night the call was for a mix after midnight.
Sat 12/29: Around 12:45 am I heard the sleet on our metal roof. When we got up in the morning it looked like 2″ of snow and sleet. What was in my driveway at 2000′ was very carvable – it wasn't too cold. At the mountain it was like two different resorts. The top was in the clouds, 28F, Windy, "cold" and very firm surfaces. At the bottom it was Sunny, 35F and very spring-like and carvy. I hooked up with Zach, another teley guy who leaves me in the dust, but still seems to want to ski with me.
After relinquishing the idea that we should spend most of our time at the top, we hit almost everything on the bottom once or more. Twister, Showcase, Sunway, Quicksilver, Ward Hill, Douple Dipper. I always seem to skip Sleighride and Wild Air.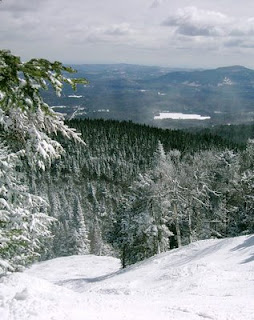 Sun 12/30: Zelda slept in and it was just my daughter and me. Neve to the Bear Cub Den. The BCD is awesome. It's like school for Neve for $400 a season. We've put over 80 hrs in on it already this year so I'm down to 5 bucks/hour. It never dawned on us originally that Zelda could TAKE A DAY OFF, I could ski and she could read, or shop or whatever. To have time off from work when she wasn't responsible for our daughter is a luxury. And Neve really likes it. She gets to run around in a way she can't in our cabin. Back to the mountain, put it this way, my wife picked a good day to take off.
It was a hard surface, like the upper mountain, across the whole mountain. I did the best I could, greatest hits across the top and bottom. No repeats. Home by 1:30 This was the only day I struggled to find fun. Late that night it started snowing.
Monday 12/31: We got about 6″ overnite. All good stuff. I remember it was a good day, but I honestly can't remember what exactly I skied. A few glades opened back up, but just a few.
New Year's Day: From what I've read on the forums, this was a top ski day for many eastern skiers. For me it was probably in my top 10 lift serviced days ever. Maybe higher – as I get better, I enjoy the pow more. It started snowing at 8am about an hour before predicted, and it started hard. It snowed all day alternating between moderate and hard, never quite getting to puking. By noon there was 6 inches of fresh.