Saturday and Sunday were awesome. I'm honestly not sure but I THINK today was better than yesterday. We got more last night – maybe 4 inches officially – but it seemed like more than that when I had first tracks on Chatiemac this morning.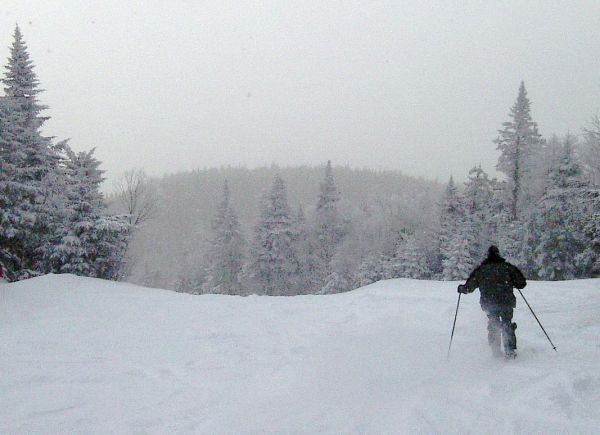 I was later than yesterday (got in line about 8:10) so I wasn't first in line in the singles line at the Gondi. I was in maybe the eighth cabin up, but for some reason, Everyone was going down Foxlair. I went over by the Pine Knot rope and found a spot out of the wind. The Patrol came over to the Uncas rope and dropped it.
I went under the rope on Pine Knot. It was great shape with 4″ on top. I hit the quad, and did Chatiemac — again first tracks. You know the feeling when you are in pow on top of a groomer. On teles I love it. I hit the Straightbrook Glades and they were better than yesterday as now the base was yesterday's dump, not some icey boilerplate. It seemed deeper in the troughs in the SB Glades. I rode Quad again and did another few laps. Upper, Lower Steilhang, Open Pit and Darby Woods.